I did some analysis of a German price comparison engine today and I was able to knock-up the following graph which shows how screen sizes have moved up way beyond the original 7 inch netbook idea. Compared to the original netbook concept, most are now big, heavy and outside what I would consider for ultra mobility usage. Germany is one of the leading countries for netbook sales and in my opinion represents what's happening across Europe.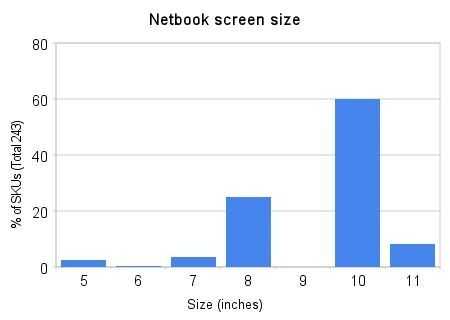 The graph shows the distribution of screen sizes (rounded down to nearest inch) across 243 models (SKUs) that are listed on the German Geizhals website under the notebooks (under 11 inch) section.
68% of the devices are over 10 inch
6.5% are 7 inch or below.
71% are over 1KG. (not shown in graph)
8.5% are Linux-based devices
There are no 7 inch netbooks based on Intel Atom
76% of devices are Intel Atom based.
It would be nice to have some more data points from other countries but if you look at screen size alone, it's clear to see what's many people already believe; the netbook category is merging into the notebook category.
In a few months I'll take another snapshot. It will be interesting to see if the sub-7 inch segment is growing in numbers despite falling in %. It will also be interesting to see if devices are getting heavier. Most of the sub-1KG devices are first-gen netbooks that are likely to drop out of the list in the next six months.