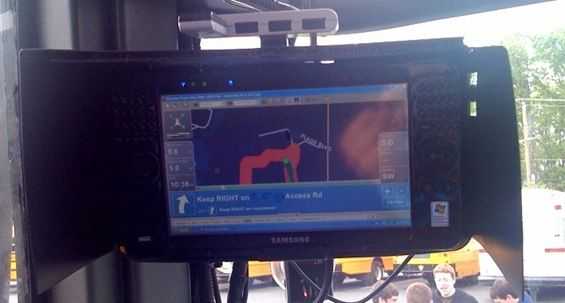 I was recently on a trip which took me on one of those big coach buses. A friend inquired to me as to whether the bus driver was using GPS or if he just knew where he was going. I assumed that he'd be using some sort of GPS, but I wasn't expecting that he'd be using a popular ultra mobile PC at the center of his navigation solution. It was interesting to see a Samsung Q1 Ultra [Portal page] in the wild, and apparently being used quite effectively. I was able to snap two quick images with my iPhone; sorry about the quality, the lighting was not in a favorable position.
The bus driver was an older man who looked to me nearing or into his 60's. I wasn't sure if the Q1U based navigation system was devised by him or supplied by the bus company. Again to my surprise, the system was set up by the bus driver himself. I suppose the old "book by its cover… inch adage is suitable here. I exchanged just a few quick words with the driver about the setup. I wasn't able to capture all of it, but it sounded like he was using some pretty powerful industry navigation software to map routes effectively. I believe he was using a Bluetooth GPS unit to obtain nav data, and I saw an AT&T branded unit which I'm assuming provided 3G data, but it looked a bit old and could have been EDGE only.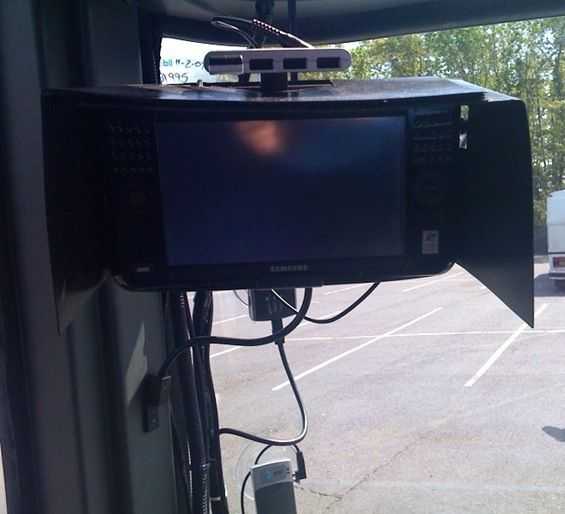 Nearly every part of the setup was mounted right on the windshield, it was pretty cool. The Q1U looked to be using a suction mount designed specifically for it. There was a DIY looking sunshade to block direct sunlight and make sure that the screen stayed readable. The sunshade looks to consist of two separate pieces and be resourcefully held together with velcro, which I would imagine makes it easy to break the setup down and pack it away. On top of the sunshade was a USB hub which provided four USB slots, in one of them a USB memory stick was plugged in. The GPS unit and AT&T data unit were both mounted to the windshield as well.
Pretty cool to see this nice navigation setup. I imagine that the driver is able to do much more than similar drivers who are using simple consumer GPS units.
Is anyone else out there using a ultra mobile PC for their in-car navigation needs?