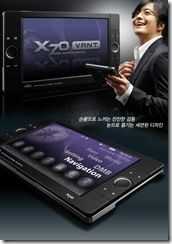 We had a very detailed email and press release from Viliv today which is now available on their English-language website. In summary, it looks like they will be highlighting global 3G and 4G versions of the S5, X70 EX and S7 UMPCs and demonstrating Windows 7. They will also be revealing two new models. A 10 inch model and a 4.8 inch device with keyboard.
The press release also mentions that Microsoft will be using an S5 with Windows 7 in their keynote. We can't wait to hear what the VP's of Microsoft call it. UMPC, MID or Mini Tablet?
Finally they have told us that a retail version of the S5 Premium 3G with 32GB SSD is on it's way to our office so when we get back from Computex there will be a nice present waiting.
Expect more detailed information on the Viliv devices next week as I'll be there covering the events here and on MIDMoves.com