Mapfactor announced version 9 of their PC Navigator software today and I've got some testing notes, images and videos for you below. Main improvements include up-to-date maps form TeleAtlas from February 2009, simplified and improved User Interface (searching dialogue, map tools), improved TMC (traffic information in Europe), improved 'Find nearest.'
I've been using PC Navigator 7 [review] for the last few years and it has worked really well on UMPCs from 4.8 inch up to 10 inch . Version 9 works just as well, if not faster and smoother than previous versions. Map coverage appears to be extensive (I didn't test all the country maps!) and the UI and search facilities are definitely improved. Most of all, I find the value for money to be excellent. Full European maps including partial coverage of some new eastern European countries and a touch-friendly application for under 120 Euros. The same price for US and Canada.
From the Mapfactor website, here's the list of features:
Voice guidance
intuitive voice navigation in different languages
door to door route planning
cross-border routing without the need to switch between countries or to a less detailed map
overview of the upcoming manoeuvre and distance shown on the screen
Traffic lane assistant
Motorway Signs clear signs which show the direction of travel
Real 3D icons of important landmarks
GPS satellite navigation
2D/3D mode allows realistic visual map display
day/night modes switch colour schemes for day or night time driving
map rotates in driving direction, or north up
Searching
find nearest points of interest
postcodes
full GB postcodes (1.8 million)
Speed cameras
hear audible warnings as you approach speed cameras
Features
odometer keeps a track of private and business mileage
add your own favourites
organise your favourites into different categories
TMC – real-time traffic informations
routing modes for car, pedestrian, truck
route avoidance – block off certain road from your route
import your databases into the map
import directly from xls, dbf and access files with utilities provided
Remote TCP/IP commands
2 way communication between driver and dispatcher
A full Europe-map install uses 2.5GB but you can choose countries on installation. Installation was a simple 2-stage process. First you install the installer which asks for your license key and then gives you the option to install PC Navigator or Map Explorer. Map Explorer is an offline version of PC Navigator much like Microsoft Streets and Trips (Autoroute in Europe.) I haven't tested this part of the software in depth but if you're using navigation software regularly or for business, the import/export functions here will interest you. It can also do tracking.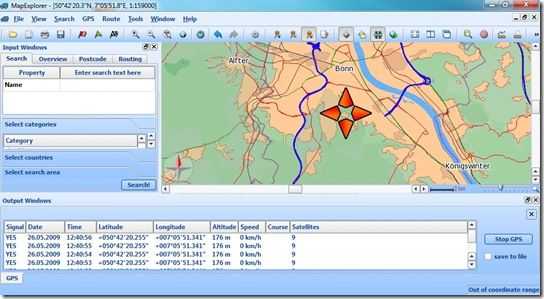 Screenshot of Map Explorer on 1024×600 screen size showing GPS tracking.
Starting up the application is straightforward but you'll have to be patient if you've got a lot of COM ports. The software scans through every com port at every bitrate to try and find a GPS signal. I have a lot of virtual com ports that were installed by my Bluetooth software so it took a good 10-15 minutes before it was complete. There is a manual setting available. From there, it's relatively intuitive. The menu system is simple to navigate. Everything is finger sized (I preferred using it on a 7 inch screen to a 4.8 inch screen but it works on both.)
In the following two videos you'll see PC Navigator 9 demonstrated on a Viliv S5 and Kohjinsha SC3. Both have built-in GPS. The Viliv S5 is particularly compact and has a great car kit available although the screen brightness on it wasn't as good as on the larger SC3. Note that you don't need a built-in GPS and in fact, I prefer a Bluetooth module because it allows you to position the GPS receiver for better reception. If you have a car like mine with IR filters in the front screen built-in GPS sometimes doesn't work too well as the signal gets attenuated. [videos on next page]
Pages: 1 2