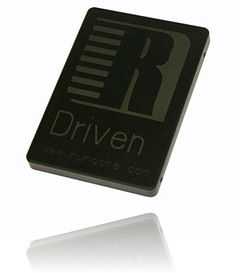 I haven't done much work with SSD upgrades since my CF conversion on the Q1 Ultra which, seriously, unleashed the device from the slow hard drive and turned it into a different kind of UMPC. Since then I've been watching JKKmobile (the king of SSD mods!) carefully and after using the SSD-based UMID MBook am convinced that a good SSD is ALWAYS worth having on a UMPC. Access speed, R/W speed, noise, heat, power and ruggedness are all positives. It's only the capacity and cost that you need to think twice about.
Runcore sent me a 2.5 inch SSD a few weeks ago that I haven't unwrapped yet as I've been busy with the UMID, Q1EX, Touchnote and Viliv S5 but now that I've seen the press release and learnt that it's the new Pro IV 32GB SSD I'll probably test it out next week by dropping it into the Touchnote. It will give it a big speed bump but with the 2.5 inch drive taking 10-15% of the power of the device, the SSD should give me a significant improvement in battery life. I'm expecting 15 mins extra to take the Touchnote up to a reliable 3.5hrs battery life on the standard battery.
The ProIV is available in 32, 64, 128 and 256GB sizes with a very useful USB-enabled enclosure that makes cloning a very simple process. "This process should not take anyone, including a novice user, more than 10-20 minutes to complete. A 15-day free trial of Acronis True Image for PC and Super Duper for the Mac are included on the drive. inch
Tweektown have already done a test on a high-end test rig and seem to be extremely happy with the device, even when compared to high-speed hard drives but I do have one problem with the device, it's not really for UMPCs. UMPCs generally use 1.8 inch 4200RPM drives of up to 60GB and swapping these out makes a huge difference. When it's a reasonably fast 160GB drive that you're swapping out, it's a different matter. This device is really aimed at traditional laptops where swapping out a 2-year old HDD and re-installing a fresh OS is going to make an unbelievable difference. Runcore have agreed to send over some 1.8 inch drives that I can test in UMPCs so I'm looking forward to that.
Check out details in the Press Release and the pre-order form here. The ProIV should start shipping on 15th May.