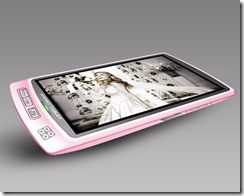 Remember that 'coffee table' pad I was talking about yesterday? The one I said could be under $250? Well it looks like it might be even cheaper than I expected. http://www.eletroworld.cn have it up for $189.
We have no idea if this is real but we're trying to order one pronto because it deserves to be investigated on the coffee table ASAP!
Specs from the web site:
Processor: Sansumg ARM S3C6410 Processor 667MHz
Screen size: 7-inch Touch-lens screen,800 X480 pixels
Memory: 128MB DDR RAM
Storage: 1GB Flash Memory
Operating System: Ubuntu Linux
Language: Chinese/English/German/French/Portuguese
Memory card slot supporting up to 32GB microSD memory cards
Wireless: supports WiFi 802.11b/g, Bluetooth
Connectivity: 2.0 USB HOST supported to connect the high-speed EDGE, HSDPA network adapter or mobile phone
Weight: 250g
Battery: 4500mAH
Warranty: One year
We've added the details to the product portal and will continue updating with new news as we find it.