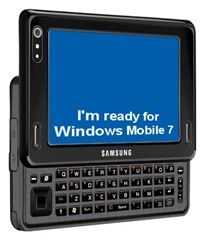 ZDnet posted some information about a rumored 'Chassis 1′ specification for Windows 7 mobile phones yesterday and although it's great to see, it looks like a list of the hardware that many of us in the ultra mobile PC and MID community have been been talking about for the last few years. It's basically a list of currently available mobile technology and includes ARMV6+ processor, 800×480 multi-touch, 3MP cam, compass, accelerometer, light Sensor, high speed USB, BT2.1 and fast SSD. The other interesting spec is a screen size of 3.5 inch or more. 
ARMV6 is not exactly thrilling but the '+' would indicate that Microsoft are going to build WM7 for the Cortex architecture meaning ARMv7 and high-end platforms like Snapdragon, Tegra and OMAP.
What we don't know is what the software layer is going to be like and that's arguably the most important element.