The Archos 9
[This post is updating with info from the live press conference. There's a live discussion going on from the event here. Thanks to @charbax and ArchosFans for the live feed. Charbax will be posting video from the event and archosfans.com later.]
More updates below but one final update needs to go up here before I lock this post. We're hearing that this could be a multi-touch device. Unconfirmed at the moment.
Windows 7 with the Intel Atom Z515 (800/1200Mz CPU), 16mm thick. 800gm, BT2.1, 802.11b/g, webcam, 120GB. Diversity (dual) tuner. 3G Option, 9″ 1024×600 screen, ethernet 10/100,  external mic, stereo speakers, vga out, 1.3mp webcam, 256mm x 134mm x 16mm
It looks extremely thin. Viliv have a challenger!
Target pricing 450 Euro. Update: Looks like 500 Euro. Availability in Autumn. (Sept/Oct)
Windows 7 delivers a great media experience with the Menlow platform so this makes sense for Archos although I wonder if they're adding a user interface layer.
I'm worried about the hard drive though. That could be a bottlekneck for Windows 7 as it has been in the past on UMPCs.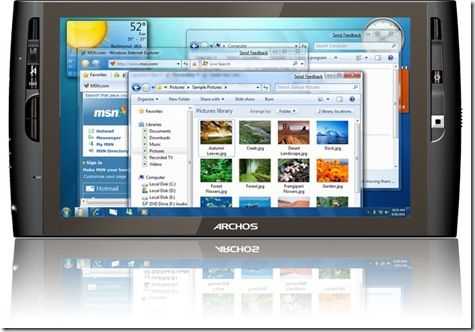 What better innovation for a MiniPC than to get rid of keyboards?
ARCHOS once again is leading the way in innovation, with the introduction of the MiniPC of the future, the ARCHOS 9PCtablet. The ARCHOS design team has coupled groundbreaking design with the most advanced technologies, by leveraging their expertise from the design of the Internet Media Tablets. The new PC combines the performance of a high end PC with breathtaking aesthetics, excellent ergonomics and a tactile interface that ARCHOS has built their reputation on. Pure lines, extreme thinness (0.63"), less than 800g and a stunning black finish, the ARCHOS 9 pushes the boundaries of elegance and simplicity on a MiniPC, fulfilling all expectations of the most mobile users.
Intuitive and easy to use, the ARCHOS 9 delivers an unrivalled user experience, and is set to replace the traditional computer. Without a physical keyboard, it provides a virtual keyboard, very easy to use on the the resistive touchscreen, and has an optical trackpoint to let you surf the web, communicate, work and entertain anywhere.
The ARCHOS 9 incorporates the new Intel® ATOMâ"¢ Z515 processor, an 80 GB1 hard disk, Bluetooth to tether wireless accessories, and 2 antennas to receive DVBT TV with diversity reception.
And what's more, the ARCHOS 9 is running Microsoft® Windows 7, the latest version of the most commonly used operating system in the world.
The ARCHOS 9 provides all the power and comfort needed for daily usage.
It combines an impressive performance and a rich multimedia experience to deliver the most advanced PC in the world. Be ready to discover it.
Looks like more products are being launched too:
http://www.archos.com/products/nb/index.html?country=de&lang=en
Update: There's a press release in French.
Update: More specs (French)
Update: More pics.
Full specifications:
PROCESSOR : Intel ATOM 1.2 GHz Z515 with video chipset US15W
OPERATING SYSTEM : Microsoft Windows 7
RAM : 1GB (DDR2 400/533)
SCREEN : 8.9 inch touch screen is almost 23 inches diagonal
RESOLUTION : 1024 x 600 pixels
HARD DRIVE : Up to 2.5-inch 120GB Format
COMMUNICATION : 10/100 Ethernet card
WiFi: PCI-E, 2 antennas, manages the IEEE 802.11b / g
Bluetooth 2.1
AUDIO : Card Realtek ALC269, 2 stereo speakers and microphone
CONNECTORS FRONT AND SIDE
USB 2.0
Headphone Jack – Audio Output
Additional ports via an optional port replicator:
– 2 USB 2.0 ports
– 10/100 Ethernet Port
– External Microphon
– Audio output / headphone
– VGA output
BATTERY : Lithium Polymer
WEBCAM : Integrated 1.3MP camera
Tuner TNT (diversity reception) recording (depending on model)
3.5G HSUPA (depending on model)
DIMENSIONS : 256mm x 134mm x 16mm (approximately)
WEIGHT : Less than 800gr
Box Contents : ARCHOS 9PCtablet, battery, adapter / charger, quick start guide.
Update: Archosfans have their Ustream video available and will post the high quality footage soon.