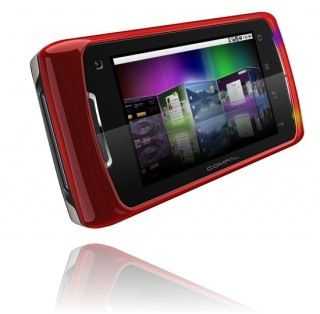 I've been careful to point out in the past that Moorestown and Menlow will overlap and continue to be available as two separate platforms in the MID space. While a version of Moorestown will support XP, it won't be the version that we're seeing touted for smartphones. Even Intel were careful to point out that you won't see the same power envelope with Microsoft products so clearly, Moorestown is initiall a cut-down or special 'crafted' platform that only works with Moblin.
Menlow is that platform that continues to be offered for use in UMPCs and note here that Intel appear to accept now that Moblin V1 isn't going to be the primary OS for Menlow based systems. I think it's fair to say that Menlow and Moblin V1 failed and even distracted the market for ultra mobile solutions until it got back on course recently with XP versions of the original MIDs. I'm even hearing and seeing Windows 7 being promoted for UMPCs and if OEMs can keep the licensing costs low and ssd speeds high, it will make a great solution.
So that brings us to the Compal KAX-15, the only Menlow-based device that was announced within the Intel meetings. It was shown in the Ultra Mobility keynote and JKK got straight over to the demo device and gave us the full details in a video. (below) Before that, the specs.
It has a sliding/tilting keyboard that is similar to the HTC Shift but on a smaller scale. It's a bit bigger than the original Compal MID that Aigo and Gigabyte used but that is probably due to a bigger battery. Compal will be aware that the battery life on their JAX-10/KAX-10 is no longer competitive in the ultra mobile PC space.
Screen size: 4.8 inch, 800×480
CPU: Z515 with 800Mhz and 1.2Ghz bursting. (Which I think means that designers can build around the TDP of the 800Mhz part but i'm not 100% sure. Sounds just like speed stepping to me)
No mouse controller
Dual web cams
I think it's fair to say that this is in the running to be the next Aigo MID. Personally I find it a better form factor than the UMID M1 but we'll have to see about battery life.