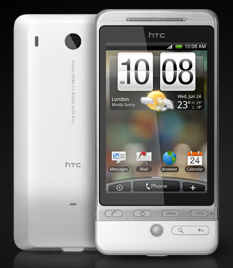 We talk a lot about the FIE (Full Internet Experience) here on ultra mobile PC Portal. The reason many of us are using UMPCs is that there aren't many non-x86 computers that have provided it. The FIE slowly finds its way onto smaller and smaller devices, and while I wouldn't say that the new HTC Hero provides a true FIE, it is getting there.
The recently released HTC Hero is HTC's second Android phone, and among other things, the unit is getting a lot of attention because its web browser can support some Flash content. Adobe has released a good video demo showing the Hero's flash capable browser, and the implementation looks pretty good, but there are still challenges ahead. Even in through the marketing jargon, it is apparent that work needs to continue until full multi-device flash support has been worked out:
As the first Android device with Flash, the new HTC Hero represents a key milestone for Android and the Flash Platform. With close to 80 percent of all videos online delivered with Adobe Flash technology, consumers want to access rich Web content on-the-go. inch said David Wadhwani, vice president and general manager, Platform Business Unit at Adobe. "The collaboration with HTC offers people a more complete Flash based Web browsing experience today and presents an important step towards full Web browsing with Flash Player 10 on mobile phones in the future [my emphasis]
It is nice to Flash working on an Android based phone, but while most Flash video players will work fine, I wouldn't (yet) expect to be able to play many of the Flash based games that are out there. The video demo shows an extremely basic game which works simply by clicking the mouse once to drop the penguin, and once more to swing. There isn't much other input from the user. This basic interaction is currently supported, but some of the more advanced Flash games will be impossible to control until more is done.  While the phone might technically have the ability to display the content of a Flash game, many Flash based games rely on keyboard based input and most (if any) certainly aren't programmed to support multiple mouse inputs (multi-touch) at this point.
Providing some support for Flash is better than no support however, and initiatives like the Open Screen Project will help future devices of this type to inch close to the FIE.