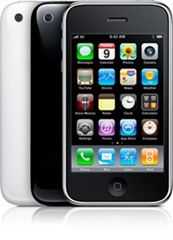 A few minutes after the iphone 3GS announcement yesterday I tweeted that it was still the most important MID out there. Despite some ridiculously lame announcements (MMS and tethering for example) the fact that the processor has been upgraded, that a compass has been added along with video capability, that there's a turn-by-turn navigation offering and the introduction of a ton of ebooks into the store highlights that it can stretch its wings across nearly all the segments that mobile internet devices should be in. Internet, gaming, photography, communications, ebooks, navigation and media playback.
The fact that it's capable of all these things (albeit in 'standard definition' and with carrier-tied 24month contract) makes it important to watch. Imagine what's going to happen within the iphone developers ecosystem. The creativity contained within it is incredible and we're going to see amazing applications, new usage models and a ton of new user-created data.
But…
It's still not quite the MID most of us are looking for. Keyboard, hi-res screen, 720p recording, hi-def playback, video-out (wasn't this supposed to be in the new OS?), removable battery, processing power, camera flash, Adobe flash and a general dash of openness are going to be big issues for pro-mobile types and that's why it doesn't really challenge devices like the UMID, the S5 or new devices like the Compal KAX-15 or the rumoured Nokia N900. Looking to 2010 and Moorestown/Moblin 2 the iPhone is going to look positively low-def if what's promised comes true.
It looks like the hardware problems are solved and we could have our ideal MID tomorrow but that software ecosystem is key to gaining a fan-base, developers, word-of-mouth marketing and, quite simply, sales. Moblin and Maemo need to attract some of that creativity otherwise we're left with some good hardware and a set of basic applications. App stores, stylish hardware, compelling API's, unique features and attractive brands are a must. The iPhone may not be the MID that any of us would create in our dreams but it's still the most important MID out there.