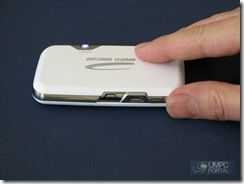 I could easily round-up the coverage of the European-focused MiFi 2352 by saying 'buy one' but that would be too easy. There ARE some things you need to think about before you take the plunge and buy one so here's my final tests and thoughts on the MiFi 2352 personal 3G hotspot for European GSM and UMTS networks.
Announcement: JKKMobile and UMPCPortal will be available on the live page tomorrow (Wednesday 24th June) at 2100 CEST (Berlin) demonstrating the Mifi 2352 and answering questions.
Update: Live session videos are available now.

Also read:
Size
The device is easily pocketable, bag-able and even window-shelf-able. The Wifi range lets you put the device wherever it's needed for the best 3G reception. Size-wise, you need not give it a second thought. Build quality is good although you might want to keep it in a little bag to avoid the ports getting dirty.

More images in the Mifi Gallery.
Software
The software comes in three parts. The 3G software, the router and the web server. Each has it's own little software stack and everything appears to work very smoothly together. Starting the device up is simple. Configuring the device is simple. Using it with multiple SIM cards is simple and sharing files from an SD card is simple. The file sharing function is limited to simple web-based downloads and uploads but we get the feeling that 3rd-party software, hacks or even official firmware upgrades could enhance this. At this point I'd like to point you to Slashgear who have also tested the Mifi 2352 and have a good set of images of the user interface.
Wifi sharing without 3G
This is the easiest way I've found yet to enable keyboard sharing between multiple devices. Of course, one of the devices needs to have an internet connection (or use the 3G on the MiFi) if you need internet access but it's a great way to set up a mini network in the home, car or while on holiday.
Battery life
I hooked up my desktop, a UMPC, a netbook and my N82 mobile phone to the MiFi and hit it hard with continuous music streaming, two IM clients and my normal web-based working process which included browsing and a big set of image uploads. The result, a warm MiFi that lasted 3.5 hours. I'm quite impressed. In normal use I would expect 4hrs out of the device and as there's a few easy ways to recharge the device (and the possibility of cheap spare batteries I feel sure that Novatel are using a pattern battery that you'll find in another device) I have no problem with the battery life. And another thing, I barely noticed any difference on my desktop. At HSPA speeds and with normal activities, the Mifi is as good as a cable internet connection.
Heat
As mentioned, the device gets warm but nothing you need to worry about. The Wifi has a good range (one concrete wall or about 20-30m in the open) which means you don't need the device too close to the clients.
Speedtests
See my previous post. I don't see the Mifi being the fastest but it's stable and has excellent reception. A stable, lower speed connection is often far more useful than a spotty high-speed one. HSPA is supported and we've seen 2.1mbps download and 1.2mbps uploads.
Price
If you've got a USB 3G stick and one computing device, you've got a tough choice today. 220 Euros is the same cost as an iPod Touch and you won't be increasing your mobile internet capability by much at all. It certainly doesnt take much effort to plug a 3G USB modem in! If you've got multiple Wifi devices though, the MiFi starts to get interesting. You will be able to enable your own personal wifi hotspot and thus mobilise your wifi devices. The Mifi will save battery life (close-range wifi is often more efficient than a USB modem), and increase your security by giving you a private channel to the internet. If you've already got 3G devices, the MiFi can save you money and give you flexibility. In Germany and many other European countries, pay-as-you-go flat rate daily or monthly tariffs are common and by choosing one and sharing it between your devices, you can control your costs.
Issues
I would have liked to have seen the possibility to attach an external antenna to the MiFi for edge-of-cell use or even a permanent installation as a broadband modem.
Charging in use. By connecting the USB cable to a PC, you initiate the USB modem mode of the Wifi. To charge the MiFi while in mobile hotspot mode you need to either plug the device into mains via the supplied adaptor, use a power-bank with a USB output or make a cable modification. It would be nice to be able to disable the USB modem mode through software.
There is a surprising amount of heat generated considering the device is only using 1.5w of power under maximum load. This may be a consideration if you want to keep this in a pocket.
Indicators. I find the indicators confusing. There are no fewer than 14 combinations of colours and steady/flashing status indicators. It's worth learning the combinations but it shouldn't be this hard cnsidering the space available on the device.
Popularity is going to become an issue. Sharing a single connection with multiple devices means more devices per cell which effectively means more data on the same number of connections. Backhaul bandwidth (from the cell tower to the data center) is already an issue and major bottleneck. If the Mifi becomes popular for Wifi device owners (iPods, PMPs etc) then expect more congestion. This is another reason to be using pay-as-you-go services so that you can hop onto the best service providers network at very little cost.
Future products
Expect Huawei to come out with a competing device soon and expect to see these devices popping up all over the place on the city high-street. Also expect carriers to be offering the devices for free with contract lock-ins or even to enable ring-fenced TV or music services so yes, if you wait, you might find a good deal with your favorite provider but 24 months is a long time in mobile internet. 24 months ago, the prices were double and the bandwidths half of what they are today. In my opinion it's better to buy a MiFi without commitment now and start enjoying the benefit.
Summary.
The Mifi is a groundbreaking product for anyone interested in mobile internet and there are very few issues to consider. It has the potential to save you money, increase your security and turn hotspot-bound device into mobile ones. It's a shame that the battery life doesn't last a full days activities but this is about as good as it gets from today's technology. If you' haven't just bought a 3G USB stick, take a close look at the MiFi, the extra cost might save you money in the long run and simplify your mobile internet life.
We bought the Mifi from Mobilx.EU in Hungary who are an affiliate of ours and also pay for advertising on UMPCPortal. There are no affiliate links in this article and the article has been written without any external review or influence. We encourage you to visit the links shown at the top of this article for reviews and information from other websites and to view the live, recorded review and Q&A session. [Details here after 24th June]