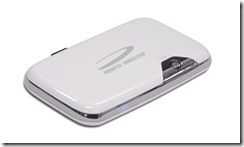 Update: We bought one. Here's what we think.
The MiFi is my tip for Ultra Mobile Product of the Year. Cutting across Wifi hotspots, 3G dongles and multiple carrier contracts or pre-paid SIM cards in one go, the MiFi is simply a must-have if you're an Ultra Mobile type of person.
Mobilx have announced availability and final pricing.
220 Euros (inclusive of European sales taxes) buys you a HSPA-capable device with the specifications shown below. First devices are expected to be available in the third week of June 2009.
We'll be getting one for testing very soon now. Hopefully it will be in my postbox when I get back from Computex.
Mobilx MiFi 2352. (aff link)
Specifications:
Access HSPA (7.2 Mbps download and 5.76 Mbps upload) mobile broadband networks with the world's first Intelligent Mobile Hotspot
Operates virtually anywhere in the world with multiple frequency band operation in HSPA, UMTS, EDGE, and GPRS† providing high speed mobile Internet access.
Connect up to 5 Wi-Fi enabled devices
Allows up to 5 Wi-Fi enabled devices to simultaneously connect to the Internet.
Easily fits in the palm of your hand
Sleek and tiny, MiFi is perfect for on-the-go connectivity.
NovaSpeed capable
Enhances performance of video, online gaming, simultaneous uploads and downloads, and large file transfers with minimal interruptions or buffering.
Integrated high-capacity microSDHCTM slot
Provides expandable storage capacity of up to 16GB, allowing access from all connected devices over Wi-Fi.
GPS-enabled for location-based services
SIM Unlocked!
Technology/Bands
Tri-band HSUPA/HSDPA – 900/1900/2100 MHz
Quad-band GPRS/EDGE – 850/900/1800/1900 MHz
A-GPS and gpsOneXTRAâ"¢ support
Receiver equalisation
Receiver diversity
Antenna
Integrated diversity antenna
Integrated WiFi antenna
Integrated GPS antenna
Software and Applications (optional)(USB Tethered Mode)
MobiLinkâ"¢ 3 Connection Manager
Built-in address book
SMS client
Data Speeds
HSDPA Up to 7.2 Mbps downlink
HSUPA Up to 5.76 Mbps uplink
LED Indicators (2)
Multi-colour status indicator
Wi-Fi indicator
Operating system
Windows 2000, XP, Vista,
Mac OS X 10.4 or later
Linux
Standard Package Contents
MiFi 2352
Quick Start Guide
USB Cable
Li-ion battery
A/C mains charger
Dimensions:
WLAN
802.11b/g 2.4 GHz
Pre-configurable security (WEP/WPA/WPA2)
DHCP server
NAT/NAPT
DNS support
VPN pass-through
Standards/Approvals/Certifications
3GPP Release 99 for WDCMA
3GPP Release 5 for HSDPA
3GPP Release 6 for HSUPA
FCC parts 2, 15, 22 & 24
CE Marking
GCF
PTCRB
GSM Phase 2+
Microsoft WHQL
Wi-Fi Alliance
R&TTE Directive 1999/5/EC (health, safety, EMC, spectrum) Compliant
RoHS Directive 2002/95/EC Compliant
WEEE Directive 2002/96/EC Compliant
A-Tick
ICASA
Industry Canada
Battery
Interfaces
microUSB port
microSDHC slot
SIM socket 1.8V and 3.0V standard USIM
SIM Unlocked!