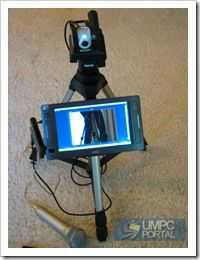 The Viliv X70 EX Premium Air has a long battery life, reasonable processing power and built in 3G so it didn't take me long to start messing about with it as a mobile broadcasting solution and that's the focus of Version 6 of my mobile reporting kit. Live video.
I spent some time testing different webcams, microphones and configurations and have come up with a 2KG setup that will allow you to do live, mobile broadcasting over Ustream with reasonable quality. The total cost of the solution is under $1000 and the setup can not only be used for live streaming but can be used as a complete Ultra Mobile live blogging solution.
Hardware
What I've done is taken the X70 EX and the car kit. I've mounted part of the car kit onto the leg of the tripod so that the ultra mobile PC can be clamped in. It provides a sturdy screen at a good height when sitting on a chair in, say, a conference room. The X70 EX has Wifi and 3G included. The 3G is HSUPA capable which puts it in the 1Mbps max upload class (assuming you have the right coverage)
I've added a 4-way USB hub to the X70 and then plugged in a Philips SPC900 webcam (manual focus) and Samson USB mic. The Philips cam has been chosen because the drivers seems to be very efficient and can produce 20fps VGA framerate while still doing automatic white-balance. Many other solutions I've tried including the built-in cam, drop to below 10fps and lower when using the automatic white balance features. Auto-focus would be nice, as would optical zoom and a quality sensor and optics but for the price, the Philips cam does well.
Software
One of the 'tricks' I use on the live video sessions is to avoid the use of the browser-embedded video capture software in the 'flash' control panel. The CPU requirement is high, the quality is poor and there's very little control. Instead I use the standalone Flash Media Encoder (FME). It's an application that takes audio and video inputs and allows you to stream to a media 'relay.' More details on this can be found here. On a desktop machine it can be used to broadcast very high quality VP6 or H.264 encoded video but on a ultra mobile PC is can be used to fine tune the broadcast for a good balance between quality and CPU load.
Unfortunately you can't control the end-user stream with the FME so you still have to run the Ustream Broadcast Console. The wonderful advantage of this is that you don't have to run the broadcast console on the same PC so you have three options.
1) Run the broadcast console on the same PC Not recommended as it takes a lot of valuable CPU and doesn't do much except start and stop the broadcast (unless you want to add text and links overlays.)
2) Run the broadcast console on another PC. This could be on another laptop that you have with you or on a remote desktop machine that you access via a remote desktop solution.
3) Get someone else to handle the broadcast console on a remote machine, anywhere on the internet.
The Ustream broadcast console automatically detects that you're streaming via the FME and allows you to switch directly to that stream. If the stream drops out it gives you the option to drop back to a local video source. It takes some playing with to understand the architecture but its very flexible once set-up.
Settings
After doing some testing with various settings I settled for a total 550kbps average broadcast bandwidth by using the VP6 encoder at 500kbps with a 20fps VGA (640×480) frame rate and size. For audio I used a 48kbps MP3 audio track. If you're broadcasting music, you'll want to pump this up to 96kbps or more.
550kbps is a good rate for 3G broadcast on HSUPA. 50% utilisation is a reasonable expectation although you must expect to get some frame loss as the quality of 3G services varies wildly based on usage and position.
Example broadcast.
This broadcast was recorded by Ustream at their servers (not at the source) while broadcasting over Wifi. It gives you a good idea of what the end user will see.
It's re-sized to 80% of full frame size.
Once again, this is not recorded at source, it's what the end user is likely to see. I hope it streams OK for you for the Ustream server and apologies for my appearance!
640 x 480 is arguably too big for web-embedded broadcasting but if possible it's worth doing as when you ask Ustream to record the stream (a single button press on the broadcast console) they'll be capturing better quality that you can use and post-process later. If you find the upload bandwidth isn't available though, switching to QVGA and dropping the bitrate to under 300kbps, 15fps, is going to work in most situations.
Using the solution for one-man live photo / text blogging.
To do live video and live photo and text blogging on the X70 EX might be asking a little too much but if you're not into doing live video, here's another possible arrangement. Using a Canon Digital Camera (possibly others too) you can replace the video camera and then use the Canon Remote Capture software from the PC. Doing this forces an immediate transfer of the image to the PC where you can drag it into LiveWriter or your favourite blogging software (I prefer LiveWriter as it does some nice image re-sizing) and update a live blog. With a USB keyboard plugged in you can type your text as you go along too.
Other thoughts
The X70 EX will run for about 4 hours over 3G in this setup. That's one 30wh battery powering the cam, mic, 3G and PC. It's amazingly efficient. If you need more power though, get the X70 EX car kit which has a car adaptor in it. You can then run the solution from a 12V car battery or general purpose Li-Ion battery. You can even use a 24w solar panel to keep the whole system topped up for a whole day's broadcasting. If you're using 3G, make sure its a true flat-rate connection!
The solution is very mobile when in use. By grabbing the neck of the tripod, the unit stays well balanced when walking. You'd need to find a good USB mic solution that could be mounted to the tripod but this shouldn't be very difficult. I can see myself having some fun with this a IFA in Sept as I walk around the booths!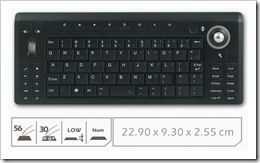 I'd like to find a higher-quality USB web camera with, if possible, built-in white balance, auto focus, brightness etc. Maybe even zoom and an LCD preview screen. I'm wondering if there are any digital cameras or digital video cameras that can be used in this way. If anyone has any information on this, please let me know.
I need a new keyboard. My Samsung Ultra Mobile USB keyboard appears to be broken so I'm looking at the Aisonic 800M right now. The integrated mouse control is a must-have but can I find one anywhere? Nope. I've written to the manufacturer to see if I can buy some samples.
The Ultimate Live Reporting Setup?
While I was thinking about keyboards, I thought about just using my netbook with Synergy keyboard and mouse sharing over a Bluetooth PAN. The advantage of this setup is that you have one keyboard, two PC's, two screens and the ability to live stream, run the broadcast console AND live blog using a USB-connected camera. It would add 1-2KG to the setup (netbook + cam) but wow, you'd be the ultimate one-man band live blogger!
Alternative solutions.
As an alternative to using the X70 EX on it's own, you could use a netbook or, for more processing power and the ability to connect a web-cam, a digital cam and to do live video and simultaneous live blogging, a full power laptop. You won't be able to mount the netbook on the tripod so you'll lose a lot of mobility but as a laptop solution it should work fine. Choose a 3G-capable laptop with a good keyboard. Something like the Samsung NC10 3G or Eee PC 1000 GO range which offer good battery life too. Overall though, with the car mount, the 12V charger, the built-in 3G and light weight, I think the X70 offers one of the best solutions for mobile use.
As for streaming platforms, Ustream works well but I'm looking to try out Livestream.com soon. They have been working in the Ultra Mobile space recently  (and demonstrated a mobile internet streaming solution at Computex) so maybe they have some good ideas. Their basic ad-supported streaming service is, like Ustream, free.
Previous versions of the ultra mobile reporting kit.
V5 (March 2009) is here.
V4 (Sept 2009) is here.
V3 (Feb 2008) is here.
V2 (Sept 2007) is here
V1 (March 2007) is here.
Have you done any live mobile streaming? Maybe you've used the QIK solution? Livestream? Let me know