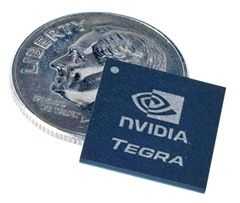 This is a subject we discussed at length on the last MeeMobility podcast. Operating systems for smartbooks. Android appears to be a great brand but it's not ready for the big(ger) screen yet. As far as I know, the Open Handset Alliance has never announced plans to upscale the OS to laptop-style usage so for the time being, a good brand is all it is.
Nvidia, the creators of the Tegra MID and Smartbook platform, think the same and are focusing on WinCE right now. Yes, it's a little shocking to us too. We know the platform is mature and stable but we can't say we've ever seen any good quality consumer-focused mobile internet devices running it. Windows Mobile 6.5 and Windows Mobile 7, extensions of the WINCE OS could carry more branding weight and attract more developers but again, it might not be the right choice for consumers.
The Nvidia info comes from an interesting ComputerWorld article.
Nvidia chose to work with Windows CE first, said Rayfield, because it "is a rock-solid operating system that has been shipped billions of times."

Windows CE also has a "low memory footprint and a good collection of apps," Rayfield said.

He said Nvidia is also improving Tegra for use on Windows Mobile, a close variant of Windows CE, for ARM-based smartphones.

Nvidia is working with Google to accelerate Android, which is based on Linux, when running on Tegra hardware. But it will be about a year before that delivers for smartbooks, due to existing limitations in Android, he said.
Get that? A year before Android 'delivers' on a smartbook.
The Tegra playing field has a number of big holes that need to be filled. CPU power, Operating Systems, Adobe Flash, a rich suite of modern applications and the all-important developer ecosystem. When you look at Moorestown and Moblin V2 and hear Intel talking about it being able to deliver better smartbooks than the ARM-based ecosystem, you have to wonder whether Nvidia can really compete. Maybe Tegra-based MIDs and Smartphones on Anroid, Win 7, Mer or Maemo would be a better focus?