The CommunicAsia expo is happening in Singapore right now and Samsung have taken the opportunity to show off a previously 'leaked' product, the Omnia Pro B7610.
Like the HTC Touch Pro 2, it's got a slider keyboard, an 800×480 screen and Windows Mobile. it's got a 5mp camera and an 800Mhz CPU. 800Mhz sounds quite hefty but the CPU architecture details aren't known yet so don't get too excited about this being the ultimate pocketable browsing device.
It's said to ship with WM6.1 but Samsung have promised an upgrade to WM6.5 which should keep this device current for a good year or more. While some of you might not like Windows Mobile, I still find it a productive and relatively open environment with a great software ecosystem. It should also be capable of running Opera Mobile 9.7 too which is one of the most advanced mobile browsers out there.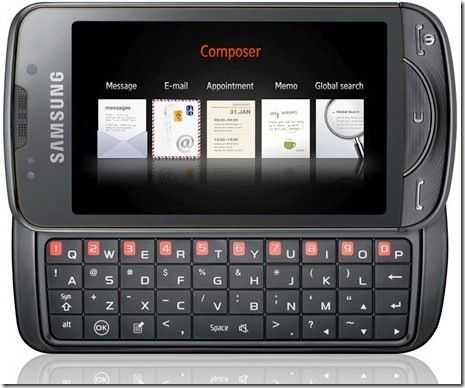 One more thing. The screen is a 3.5 inch AMOLED type which will provide great indoor color saturation but may not be the best choice for outdoor use. Expect a release in Q3 or even Q4 and keep your fingers crossed for 720p recording and the high-end processor that could make Opera Mobile a truly slick mobile browser experience.
Via Akihabara News
More thoughts on pocketable communications solutions from the smartphone bracket in this article.