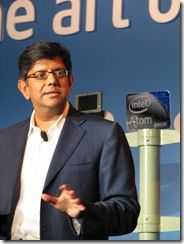 I had a chance to meet Anand Chandrasekher, senior vice president and general manager of Intel's Ultra Mobility Group, after the Ultra Mobility Event today and (apologies to the other bloggers in the room) managed to ask a whole bunch of questions. Some couldn't really be answered in detail but here are the highlights.
Moorestown supports 720p encoding in hardware. We knew it had hardware encoding but we didn't know the performance level. It looks like we could see some nice streaming video solutions.

MS Windows will be supported on a 'version' of Moorestown. You won't see the same power efficiency under Windows when compared to Moblin 2.0

When Intel talk about 'Platform' efficiency, that are talking about the full product including radio's and screen. If we take the '50x platform idle power reduction' over Menlow (which idle's at something like 5W in worst-case scenarios on MIDs like the Viliv S5) we're looking at around 100mw which is very impressive. Previously Intel had announced a 10x reduction but 50x is the current figure.

There are three software vendors working on UI offerings for Moblin 2 on MIDs. Canonical. Wind River and Asianux

There is no detail on Moorestown timescale. Party line appears to be that they will have Moorestown ready by beginning of 2010. If seeing that it might be accelerated.

Menlow will still be refreshed even when Moorestown is released.

Intel says that Moorestown will provide a far better smartbook experience than ARM-based products

The power 'envelope' of Moorestown is 2W.

Intel don't think ARM will be able to compete with Intel on performance or (internet) compatibility. They want to maintain their performance and compatibility lead.
In general I was very impressed with what I saw today. It's still hard to believe that MIDs are now in the smartphone space. Unfortunately we didn't get the chance to make a voice call and we didn't have a lot of hands on but there are a few videos being processed so keep an eye on YouTube.