Lord knows the US data market needs a whack over the head and an injection of new ideas. WiMax is one pincer. Virgin Mobile could be the other.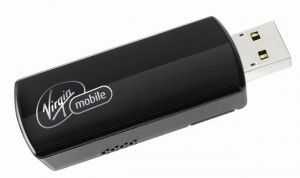 Virgin Mobile Broadband2GO is a pay-as-you-go broadband service on the Sprint EVDO Rev A network available in 10-day or 30-day long packages. Overall the cost per MB is probably higher than other services and certainly higher than in Europe but this is just the start of it. Giving flexibility to test out mobile internet or to use it when away for business trips and pressuring the big carriers to re-think their stupid $60 / 24-month contracts. It's great news.
I hope it's possible to buy a SIM without having to buy the dongle. A MiFi option might be interesting too. I'm over in the U.S. in Sept so I'll probably be needing this.
From Mobile Crunch:
When the service goes live later this month you'll be able to purchase a Novatel Ovation MC760 USB dongle for $150 sans contract. Pay-as-you-go VM Top-Up cards can be purchased in the following increments: 100MB, 250MB, 500MB and 1GB. Here's where it gets a little confusing; 100MB will cost you $10, but you have to use that within 10 days. For $20 you get 250MB, 500MB for $40 and 1GB for $60, which have to be used within 30 days.
Maybe AT&T will reconsider a more flexible GoPhone option now.
Virgin Mobile USA offers Broadband2Go service with no contract.