When we guessed the specs of the Crunchpad back in April we based it around what we thought was the best that could be achieved. It appears we may have got the pricing in the right ballpark but woah!, wait a minute, we're now hearing that it will weigh a hefty 1.2kg. Take it from me, that is way too heavy for consumers. My Gigabyte Touchnote (similar specs to the Crunchpad) weighs the same and it's not a device I use on the sofa or in the bed. Anything over 1KG is simply not comfortable.
Not only that but we're now hearing that the Crunchpad will have 3G built-in. 3G? Why? This is supposedly targeted at the sofa or office desk. What Crunchpad customer isn't going to have Wifi available at the sofa? 1.2kg makes it too heavy for toting around as a web reader too so why the high-speed data? A low-end 3G modem is going to cost $30-$50 to the parts cost. Again, Why?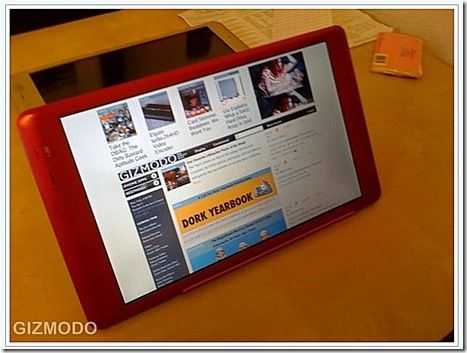 The third shock of the article is the price. $399.
With specifications and potential price-creep like this, the Crunchpad isn't going to get much in the way of praise when it launches. We've seen it many times before in the ultra mobile PC market and UMPCs still don't sell in huge numbers today despite being available for under $500 now. In fact, I've got specs of a 10 inch Atom-based tablet in front of me right now that matches closely with the Crunchpad. In quantity it's available for $320. Despite the excellent value I still don't expect it to sell very well.
Having said all that, there's every possibility that reporting mistakes have been made here especially considering the article title is 'Worlds first tablet PC.' The Crunchpad organisation knows what's going on around them and they won't be giving out too many finalised details at this stage.
Update: As we expected, the information is unauthorised. Mike Arington is mad too but he does like to get dramatic at times. It's all part of the SEO show folks!
Source: Straitstimes. Via Slashgear.