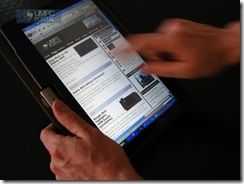 The Gigabyte Touchnote T1028M [details] is a great convertible netbook. I've been using one as my main laptop for nearly 4 months now and I'm very very happy with it. Of course I've retro-fitted one of the new Runcore Pro IV SSD drives and added a 3G modem which connects to the pre-wired antenna turning it into more than your average netbook but even without the SSD and 3G it's a great convertible netbook. The only niggle I have is with the 3hr battery life. My Ultimate Netbook U20 battery pack does a good job of back-up power duties but to make things a little more compact I bought the 6-cell battery pack option.
At 68 Euros plus tax, I wasn't too exited about the price but it turns out that its more than just another 2 cells. The 6 cell pack has 170% the capacity of the standard battery and is returning 5.5 to 6hrs on-net working time. As I write this I have over 2hrs left with 36% battery remaining with the Wifi on and the backlight at 70%. With the standard battery as a spare, I have a full day's computing available without having to worry about mains power.
The sizing is good too with no noticeable increase in height and only a small section jutting out from the rear.
Unfortunately the 6-cell sticks out too far for it to fit into the supplied case but if you attach the standard cell and put the 6-cell in the case pocket you've got up to 9 hours of netbooking!  Total weight of the T1028M with the 6-cell attached is 1450gm. (3lb 3oz)
If you've got the M912 or T1028M and need enough battery power for a full days work, the extended battery is the answer.
With the addition of the extended battery on the Touchnote I've run out of ideas for improvement. I honestly can't think of anything that I don't like about the device now. Agreed, it's cost me way way more than any netbook available but there's nothing out there that comes close. The T101H would be the only competitor but there's still no word of a release date for that. If you're waiting for the T101H, you might want to take a closer look at the T1028. (Note: The high-end version, T1028X, with the N280 and 1366×768 screen is available in the U.S. from the 2nd August)
T1028 M Product page.
I bought the extended battery at Mobilx.eu.