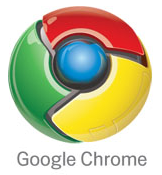 In the same way that Google Wave is being designed, in a way, to represent what email would look like if it were invented today, Google's just announced operating system is Google's attempt to re-think what operating systems should be. Google says that the operating systems that we use today were fundamentally developed before the consumer web was around, and thus aren't conducive to the activities and goals of computer usage that is expected in this day and age.
The Google Chrome OS, which is set to be released on netbooks in the second half of 2010, is an open source operating system that will run on both x86 and ARM based architectures, and Google hopes to initially target netbooks, but the OS will definitely be used elsewhere as well.
As the name implies, the Google Chrome OS is going to be like booting right into a browser in just a few seconds. This puts Google's suite of web applications in a favorable position as Google brings more and more users into the cloud. Google also makes the point that developers who create new web applications will be developing for the largest computing platform, as web apps based on web standards will run in any browser, giving that application access to a user-base which extends to Mac, PC, and further.
In case it wasn't clear, the Google Chrome OS will be completely free, and open-sourced later this year so that the open-source community can contribute to the project. We mentioned that the Google Chrome OS will start showing up on netbooks in the second half of 2010; Google says they are working with a number of technology companies to bring Chrome OS equipped devices to market, including: Acer, Adobe, Asus, Freescale, HP, Lenovo, Qualcomm, and Texas Instruments.
Google seems to be very transparent about this project, as it seems to benefit consumers enormously. Consumers are going to get a quick booting, free OS. Netbook and other hardware producers have a solid choice in a free open-source OS which means consumers won't have other OS license fees passed on to them. Additionally all of this is going to create good competition in the instant booting OS space, which means innovation and better products.
Read the official announcement from the official Google blog.