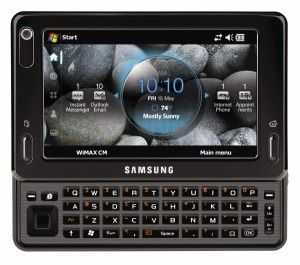 There are two ways to look at the Samsung Mondi, the oversized slider-style PocketPC with built-in WiMax. Either you wonder why Samsung didn't go all the way with the convergence theme by adding in the cellular voice capability or you look at it as a flag-bearer in the Smartphone and MID market. One of the first devices that promotes the use of internet based services for all your communications and a real benchmark for pricing and capability.
Before we get too excited though I think it's fair to say that the Mondi has probably been commissioned by Clearwire to become part of the early portfolio of WiMax enabled devices. Its a product that solves the chicken-and-egg situation and a product that highlights the key elements of the WiMax service which are lower-cost, higher bandwidth mobile Internet connectivity. You may find the Mondi for sale online but its primary task is to be present at roadshows, in the media and of course, in Clearwire shops in Clearwire catchment areas.
To create the Mondi, Samsung have taken an 800Mhz smartphone (with almost the same specifications as the Omnia Pro,) dropped the cellular voice capabilities, increased the screen size, added mobile data capability and presented it as a mobile internet device that compares favorably to many of the Intel-based devices out there. While the processing power won't be in the same league, Windows Mobile offers a stable,  rich environment for a hige range of applications. Opera provides a reasonable web experience. There's a 3 mega-pixel cam and GPS (along with many many mature apps that can take advantage of it,) video playback support with HDMI output, instant-on, long-tern active standby and up to 5 hours of wifi active time. More than enough for a days work. All this for just $450. That's impressive and it sets a new benchmark for people like Nokia and Intel's MID partners, even if Clearwire are providing Samsung with some sort of incentive.
It's not all roses though. The Web experience will be incomplete. You wont have full flash 10 or Adobe AIR runtime and Windows Mobile 6.1 doesn't impress anyone in terms of UI aesthetics and UI efficiency but for most people there's just too much good stuff on the Mondi to let a that be a showstopper.
There is one showstopper though and its got something to do with the raft of 3-4 inch high-end smartphones built on similar platforms that do include voice. Take the Omnia Pro for example. It comes in at a similar price (450 Euro is assumed to be under $500 retail in the U.S.) with the same CPU, the same OS and the same form factor. It's got the same screen resolution, a better cam and of course, comes with the more widespread HSPA data and voice capabilities. It's slightly smaller which means that you'll probably be zooming in on those websites more than you would with the Mondi but to most customers, the fact that it's smaller will probably be seen as an advantage. Total convergence. Why buy the Mondi? With WiMax, there's isn't much choice. That's why!
The Mondi is an interesting product. It highlights how devices at the top end of the smartphone market are already MIDs. In some respects this has always been possible but it's the combination of advanced hardware, software, services, networks and potential customer-base that is bringing it to the surface in 2009.  There's nothing stopping Samsung dropping an HSPA data and voice modem into a version of the Mondi and selling it for 150 Euros with a contract in Europe. Nokia and Intel will have to be very aware of this as they bring devices into the market. For the time being though, I think we (and Intel) have to regard the Mondi as an important milestone. It might be a showcase device for a data service that has few other product options but it does show the  possibilities and pricing. A next-gen CPU (ARM Cortex as seen in the iPhone and Palm Pre) a next-gen OS and are already here and it's only a matter of months before the web experience is made complete with flash on smartphones. 4.3″ is big for a smartphone but near perfect for the increasing numbers of pro-mobile users that don't need a desktop OS and want to retain easy pocketability.
The Mondi won't be a big seller in its current form but I love that fact that it's here. It represents a real step forward in mobile data networks and mobile device marketing. It's no surprise that Samsung, the company that worked so hard to get the best out of UMPCs, are the ones brave enough to do it.
Samsung Mondi product page [umpcportal]
Samsung Mondi Product Page. The official Samsung Mondi web pages are already available from the Samsung website. The marketing is interesting. 'Blazing fast Internet.'  is the expression used. We're not sure about the 'blazing' bit but in comparison with other smartphones, it should be up there with the best. PCWorld seem to think so in their hands-on.
Also note that Jenn, at Pocketables.net, has ordered a Mondi. Stay tuned for more information from Jenn and. If I get my Omnia Pro at around the same time, we'll try and set up some sort of comparison between the two devices.