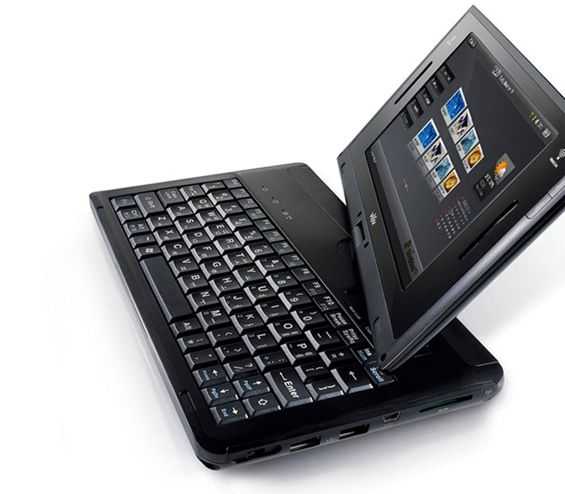 The upcoming Viliv S7 [Portal page] is currently at the #6 spot on ultra mobile PC Portal's top 10 chart and is still on its way out the door to a consumer release. If the recently released and oft-glorified Viliv S5 [Portal page] and Viliv X70 [Portal page] are any indicator, the Viliv S7 is going to be a solid ultra mobile PC with good build quality. Setting it apart from the S5 or X70 is the fact that the S7 has a hardware keyboard while the aforementioned Viliv devices use an on screen keyboard with vibrating feedback for their default text entry method. While many claim to be waiting for their dream device which would be "an S5 with a hardware keyboard, inch the S7's keyboard is actually going to be the device's biggest challenge.
What do I mean when I say challenge? Well for one, it is going to need to impress its users if the Viliv S7 is going to build a reputation as being a great device as the S5 and X70 seem to have done.
If you'll come back with me to a time that seems not so distant, most of the original netbooks were released with 7 inch screens, and keyboards with diagonals not much larger or smaller than that size. Shortly after the first round of netbook contenders, screens increased in size from 7 inch to 8.9 inch almost unanimously across companies and eventually up to 10 inch which is around the area where the average user doesn't feel they are compromising too much on screen size. Screen size is only one part of the story, however, along with the increase in screen size, keyboards were able to grow as well; up to a point where consumers felt that they could type nearly as well as on a full sized laptop.
Now here comes Viliv with the S7 which has a 7 inch screen during a time when netbooks are nearly always released as 8.9 inch or 10 inch devices. Now I know many of you realize that the S7 is definitely not a netbook, it is a UMPC, however, if there is a keyboard on the device, people are going to be dissatisfied based on how similar the typing experience on the S7 is compared to a full sized keyboard. This is a potential issue for the popularity of the device and especially for its word-of-mouth based marketing which is very important for a niche product such as a UMPC. If people come away dissatisfied with the keyboard, the likely result will be that this is the largest complaint about the S7 and instead of hearing people say (as they do now about the S5) "The Viliv S5 is great, it would be even better with a keyboard! inch, you'll hear "The S7 could have been a good device if only it had a good keyboard. inch But unfortunately size isn't the only potential challenge for the S7's keyboard.
Pages: 1 2