MID, Smartphone, MIDPhone, Mini-tablet, PMP. Who cares! This FCC filing gives us enough to get excited about, whatever the keyword.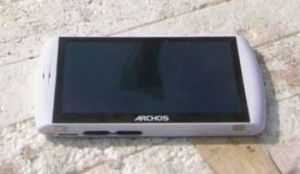 The A5S and A5H have appeared in an FCC filing and confirm a lot of the rumors but for me, seeing the very thin top and bottom frame in the picture makes me think that this is going to be very pocketable for a 4.8″ device. With the high-quality Android on-screen keyboard (I'm hoping that the keyboard is an open-source component and that Archos haven't had to drop their own version in.) this really could be a very special tablet-style device. The only thing that should concern us is that this is clearly a branch of Android that supports the Ti OMAP 3 platform. While there could be good compatibility between branch, clearly it's not a good thing to see a Linux distribution splintering. Lets hope that Archos are passing their OMAP and video-playback goodness upstream so that everyone can benefit.
The Archos MIDs are due to be launched on Sept 15th but I'm guessing there's be some leaked info before then. Images and more info at Slashgear and Engadget.
Thanks Chris.
Archos Android MIDs A5S and A5H revealed in FCC filing – SlashGear.
P.S. One more thing – I hope it's not coming in White! Related news in the right hand columns.