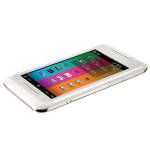 After reading the article, don't forget to check out the poll at the end.
I took the opportunity to test out a few handsets yesterday. The Nokia N97 (I'm still not impressed) the HTC Magic Hero (a slick experience that I'm seriously considering as my next phone now) and the Toshiba TG01.
It's the Toshiba TG01 that I want to talk about today as for me it represents the fusion of the relatively high-powered web-focused MID concept and the 24/7 pocketable phone. It's got a 4.3 inch 4.1″ 800×480 screen and a high-end smartphone processor. It's not as big as the 4.8 inch Intel MIDs and yet it's much bigger than most phones out there. As it turns out I wasn't impressed by the TG01. The UI seems pretty thin and unnecessary and to be honest, I didn't go much further after pressing the web icon and seeing Mobile Internet Explorer pop up. It was a shocking expose of the underpinnings of the TG01. But that's not the thing I wanted to write about.
It's the size that really struck me. For a phone, it's HUGE! There's simply no way that the average person is going to be able to use this as a 24/7 phone. I don't mean to imply that the TG01 is meant to be a 24/7 phone but it proves that convergence between the full internet minimum screen resolution of 800×480 and the 24/7 total convergent device is simply not going to happen for most people. Yes, there are people out there that can regularly handle 250+ pixels per inch with standard browser font sizes but for me, and I imagine most people, 800×480 in anything less than 4.8 inch is going to be sub-optimal for full web browsing. On a smaller, pocketable-sized 3.5 inch screen either you bump the font sizes up on and reduce the screen real estate or you suffer with a time-consuming zoom operation. Looks like Apple really did the best they could with the size of their iPhone.
This isn't actually a new thought for me. I've always said that 200ppi is about the best for handheld web browsing but over the last months I've been open to the idea of pushing that screen size down and the PPI figure up in order to get the ultimate converged mobile device. It's one of the reasons I ordered the Samsung Omnia Pro but that project is about to be canceled now that I've had a chance to put things in perspective again. Big screens make for nice readability but are a false friend on a 24/7 buddy device. High pixel density on a small screens looks impressive but don't work well for an optimal web experience. The concept of a totaly converged device is flawed in that respect. Start thinking about navigation, ebooks, video playback and finger sizes and it seems even more flawed to converge everything!
Based on that, i'm back firmly into my original strategy of smaller buddy phone and dedicated web-focused MID, if I can find it!
You may be different. Have your say in the poll and let me know in the comments.
[poll id="3″]