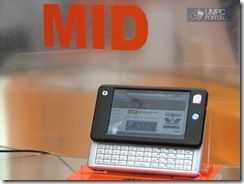 As Sumocat has already pointed out, the results are hardly surprising. If you want to buy a MID in the US, you have to search very hard indeed.
ARS Technica took a list (supplied by Intel Marketing) of MIDs available in the U.S.  and went on a search. The list of device list was hardly complete…
Archos: 9″ Tablet
Clarion: MiND
Fujitsu: U820
Panasonic: U1 Toughbook, H1 Toughbook
UMID: m1
Yukyung Viliv: S5, X70EX
There's only one place on the internet you'll find a complete list of all UMPCs and MIDs so it's easy to find the ones that were missing [Full list below] but that's not the point of the story. The point of the ARS Technica article is that you can't find many devices in normal channels. It's true and it won't change until distributors get some confidence that they can actually sell stock. This is an incredibly niche market we're working in here and until better products reach the market with better operating systems and some marketing support from Intel, I don't think anyone is going to be throwing thousands of dollars at marketing themselves and buying large amounts of stock.
I was speaking to Mobilx today and they have the same worry. There's no point buying 500 MIDs until you see a no-risk demand that means you can shift stock in a reasonable amount of time. With companies like OQO, Raon Digital and Wibrain going out of business, that risk of being left with a shelf full of products that aren't going to get marketing or after-sales support is way too high. We agreed that despite Windows XP being useful and productive, XP is boring is becoming a hurdle in the consumer market. That needs to change and that the time is running out. Intel needs to get Moblin/Moorestown products out ASAP because Android, Maemo and ARM have already reached the MID market.
On the bright side, don't forget that US is not the primary market for MIDs and we're very close to the main IDF event of the year which means all the news and marketing has already tailed off in preparation for the next wave. In just 6 weeks we should be getting updates on products, platforms and software and with voice-enabled Moorestown and Moblin, it's a very different proposition this time round.
List of MIDs on next page…
Pages: 1 2