The discussion of what is and isn't a MID will continue forever but I guarantee that most people would say 'yes' to this being one. It's a rumored device from HTC called 'Leo' I mentioned it briefly in a 'MIDPhone' post a few weeks ago but there's now an image showing a candybar (or possible slider?) phone and some great MID-centric specs to consider.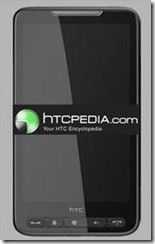 Snapdragon MSM 8250 1Ghz
Display 4,3″ 480*800 capacitance touch-screen
512 ROM and 320 RAM
Camera 8mp with autofocus
Wi-Fi, A-GPS Bluetooth 2.1 + EDR, support GSM/EDGE, HSDPA
3,5mm Jack
MicroSD Slot
G-Sensor, motion sensor and light sensor
Manilla (TouchFlo) 2.5
Quite a tasty line-up don't you think? Apart from the OS. Manilla means Windows Mobile and although I don't mind Windows Mobile, the OSK isn't up to the quality of the Android or iPhone keyboards so I'd rather be using it with a slide-out keyboard.
Android on a Snapdragon platform with a 4.3 inch WVGA screen, high quality cam would probably satisfy my desires for 2009 and early 2010 but it looks like it isn't to be just yet. It's the Omnia Pro or the Nokia Rover on the top of my list right now.
Via Slashgear.