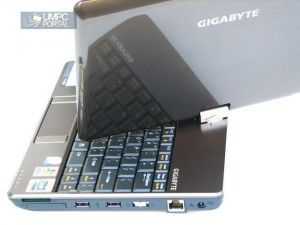 Liliputing and Netbooknews.com both have Gigabyte Touchnote T1028X's in their hands and videos and first thoughts are starting to appear.
Certainly the price is the main point of note with the T1028X. It looks like a netbook but has a low-end notebook price. In reality, it isn't really a netbook. With the touch-capable high-res screen, convertible form factor, upgradeability, smart manager and gesture software, multi-touch mousepad, fast SATA drive, N280 CPU and pre-wired 3G antenna you're getting way more than with the average netbook. Gigabyte would have done well to at least make the device look a bit more stylish though. There are more stylish options out there and if you're going to spend money like that, you want something to show off right?
Here is the initial hands-on from Liliputing.
Expect a Touchnote T1028X video from Netbooknews.com in the next few days. I've spoken to Sascha already and he seems to really like it so far.
More information on the Gigabyte Touchnote including my reviews and tests. I'm writing up some long term testing notes today too.