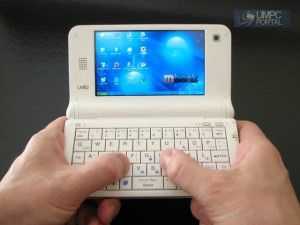 Despite the UMID MBook [details] being a very powerful and very small little computer at a very reasonable price, it has never really gained the traction I thought it deserved [review]. The USB dongles and the screen hinge were two significant issues but despite that, I thought we might have seen more action on blogs and forums than we have. To get a handle on what's going on I contacted UMID to check that they hadn't gone the way of OQO and Raon Digital. Here's what they said.
Chippy: Is it [umid m1] shipping in quantity now? Are the early build quality problems fixed?

UMID: Since there have been LCD shortage, we are not able to supply enough qty, but we are expecting to get delivered enough products beginning of Sep. with Black model also. We have fixed plastic (cabinet) problem..such as no clicking sound when you open it up and easy to control screen angle and etc.

Chippy: What overseas (EU, US) distributors do you have?

UMID: In US market, we have one channel supplier named Dynamism so far, we will extend more a sales channel US in near future. And, we are setting up an exclusive distributor organization for EU market as ODM brand.

Chippy: Do you have plans for an upgraded or new model soon?

UMID: You will see them at IDF SF, and M1 BK model.
So it looks like the Black version is coming at the beginning of September and that there may be a new model shown at IDF although that's open to interpretation. If the screen folds back further than it did though it removes one of the major issues with the device. It tried to clarify that point because a black version with a better screen angle would really interest me.
Chippy: Does the screen now fold back further or have you just fixed the "click" problem?

Yes, there is modification of controlling screen angle
We're trying to get images and information but all we managed to get hold of so far are images of the Black (BK) model which looks great.
Click to see full size versions.
We'll be at IDF so of course we'll be checking out the latest version and testing it for screen angle. I hope they don't mind me stealing it overnight for some testing and videos!