We're at the Archos 9 launch event.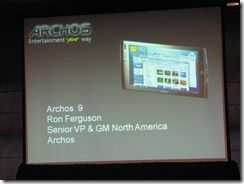 Ron Ferguson talking about history of mobile computing devices, Archos 10 netbook.
And now the Archos 9 launch….
Ultra Thin
Ultra Powerful
Ultra HD
Ultra Mobile
Note it's running in the 1.1Ghz CPU. Z510.
60GB Drive.
Wifi / BT.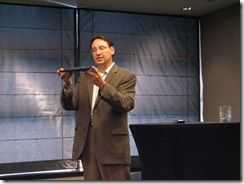 16:30
Talking the specs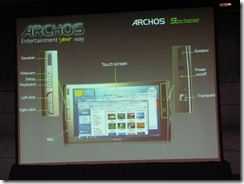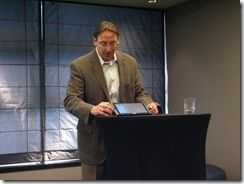 16:30 Showing a video of the keyboard being used flat on a table. (Not being thumbed)
"Groundbreaking new design"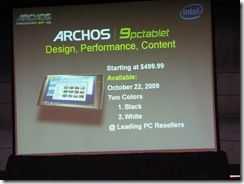 Available Oct 22, 2009
$499.99
Intel now on stage talking about usages that are moving to the internet.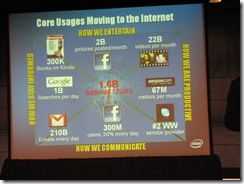 Big stats on the screen there!
Intel talking about 2 architectures (Core and Atom) and one Internet. Hyping the Atom. 'Up to 2Ghz of processing power."
Back to Archos. "Groundbreaking product on groundbreaking technology"
Archos demonstrating the device on the screen. Pregnant pause while we wait for cables to be plugged-in.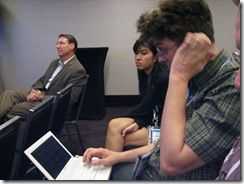 Sascha (netbooknews.com) blogging next to me!
Q&A session coming up.
Battery life – 4hrs +
Windows 7 starter edition.
Resistive touchscreen.
Archos showing accessory …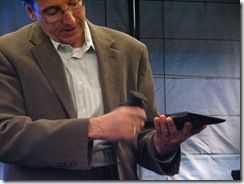 Ethernet, VGA, 2xUSB on the expansion pack.
Plans to launch a 120Gb
Some plans to implement content back-end, 3G and they can't talk about SSD.
Archos on the 9 vs the Android-based tablet: Geared towards entertainment and productivity. The Archos 9 could replace a laptop.
OK session ending now. We'll get some pics, videos but check-out the hands-on video we did yesterday when we had a sleepover with the Archos 9