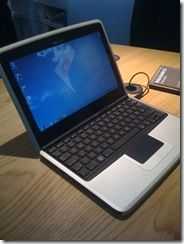 No word on availability of the booklet or N900 from the Nokia keynote but a couple of prices:
Booklet: 579 Euros
N900: 500 Euros.
The question is, are these pre-tax prices because the N900 is still available for 599 Euros (503 pre tax)
Update: Three responses on Twitter suggest that Nokia normal quote pre-tax prices.
If tax needs to be added to the Booklet you are looking at 689 Euros fro the Booklet in Germany. Bzzzzzzt!