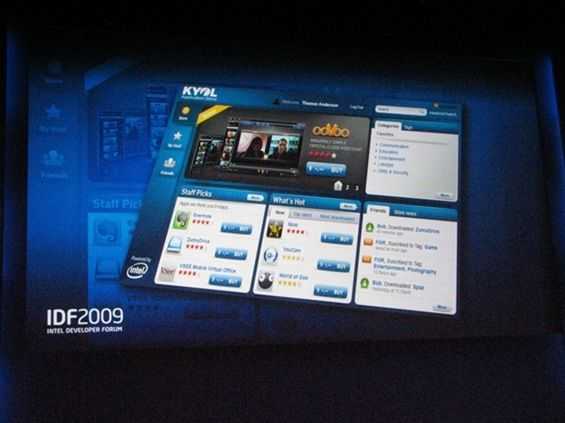 Chippy wrote about it not long ago and it looks like he was right on the money. At IDF 2009, Intel has announced the Intel Atom Developer Program, the 'app store' framework for mobile atom products.
Don't cast this off as a 'me too' for Intel though, this app store brings some really benefits to the platforms that it will serve.
First of all, Intel's Atom app store will function on Windows and Moblin. One application written by a developer will run on both of these devices with the help of Microsoft Silverlight and other multi-platform systems such as Adobe Air.
So what's so great about an app store anyway? An app store has the ability to drive innovative application creation because it let's developers focus on what they do best: development. By removing the barriers of sale, such as having to devise a secure payment and distribution method for each individual program, developers will be able to flourish. By breaking down these walls, even a single person with a good idea has a chance to make money from users that want their program. This means great applications for the users, and a money making potential for devs, which should draw developers to this platform.
While an app store is a good thing for consumers, it still has some barriers to overcome. An app store works great on something like the iPhone or Android, because these are systems that only run particular applications to begin with. Intel's app store will be running on Moblin (Linux) and Windows; both x86 platforms which are already capable of running applications that are out there. Intel will need to distribute this app store well if people are going to really take advantage of it. By opening up this app store, Intel is competing against THE app store… not sure what I'm talking about? It's called the internet. Because these machines are x86, users are used to simply finding and buying a program on the web, something that Intel will need to work hard to undo.
Jump over to MIDMoves for the full press release from Intel.