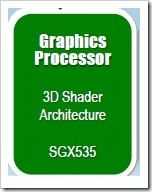 One of the things I expected to find out at the Intel Developer Forum this year were details about Pinetrail and Moorestown graphics. GMA950 on the current netbook platform clearly needs a boost in the video codec department and if Moblin 2 is only going to support Moorestown and Pinetrail along with the current generation of netbooks, it makes sense that they have the same graphics core right? It fits perfectly with Intel's 'continuum' of devices on the Atom platform. Unfortunately the information on the graphics was limited to notes about OpenGL 2.0 ES and a mention of a PowerVR core in a 'Sodaville' Atom-based media processor presentation (image right.)
During a session at IDF this week though, I had fairly concrete confirmation from people in-the-know that the graphics on the Moorestown platform would be a GMA500 (PowerVR SGX core) as you'll find in the Menlow (Poulsbo chipset as seen on the Asus T91, Viliv X70 and other mobile and long battery-life-focused solutions.) I was a little surprised that it's the GMA500 but have no reason to disbelieve the info I was given.
Dovetailing nicely with that information though is continuing speculation that Pineview, the CPU+GPU on the Pinetrail netbook platform is also going to use the GMA500. The original info comes from a June article by HKEPC but LinuxDevices seem fairly confident that it is in fact a GMA500 core in Pinetrail.
Its looking like we're going to have a very closely-matched range of platforms come mid-2010 then.
Pinetrail Netbook platform. Atom 1.66Ghz + GMA500 GPU
Menlow MID platform. Atom ranging from 800Mhz-2.0Ghz + GMA 500 GPU (with PowerVR SGX core)
Moorestown Atom CPU (clockrate unknown) + GMA 500 GPU (With PowerVR SGX core)
Sodaville Atom  CPU + PowerVR SGX core.
Note: In each case the graphics may be clocked at different speeds ranging from 133 400Mhz. On current devices we see a 133Mhz graphics clock.
The exciting thing about this is that everything is aligned well to keep it simple for developers and there's just one operating system that will sit on top of all these to provide optimised kernel, drivers, SDK and app-store. Moblin. From smartphones to netbooks through set-top boxes, PNDs, PMPs, Web tablets and more. One platform for developers that covers, in the 2010-2012 timeframe, an addressable market of over 400 million units, in just the mobile internet device and smartphone segment. Add a few hundred million on top of that for netbooks!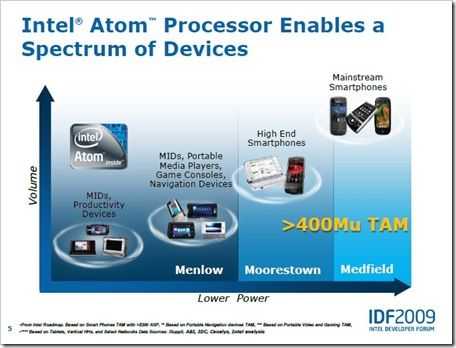 Intel's 'Continuum' is starting to come together.