The Live Webcast of the Keynote is running as I type this. Images are coming in too so I'll update this post as we go along through the keynote. I'm live on the /live page (chat too) and i'll be posting more as information comes through over the next two days.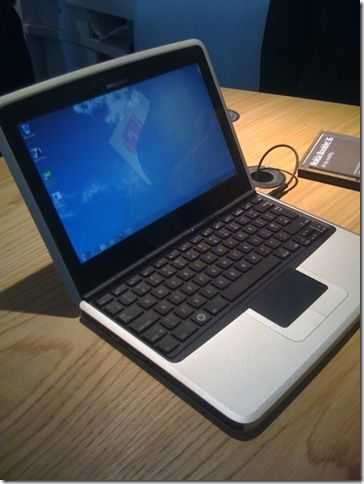 Booklet 3G Image  via Twitter user Filchambers
Olli-Pekka Kallasvuo is speaking right now. I'm picking out info that might be relevant to UMPCPortal readers here.
Nokia Booklet: Great example of the convergence of mobility and computer
Avail, price, later!
Nokia N900: 'Best browser device ever'
'Both devices are natural next steps for Nokia'
0940: Olli not talking details but Anssi Vanjoki (Executive Vice President of 'New Markets') is now talking. Hopefully we'll get more info from him….
0954: N97 mini launched. New features added to Nokia Maps. A couple of music phones launched.
10:05 Talking about booklet. Highlighting W7 and 12hours battery life. Unconfirmed: I think he said 1.6Ghz Atom. (N270 or N530?) Price 579 Euros.
10:10 Talking about N900…Price. 500 Euros. It's still 599 on the Nokia Shop in Germany!
Keynote finished. I guess everyone is rushing for hands-on now!!!
More news as it happens during the day. Stay tuned.