Update 18.: It's Opera Mobile 5 Beta. I'm testing on an Omnia Pro right now. Fast, good features. No complaints yet! Have you tested it?
It's a question that Opera is going to answer very soon. The next generation in mobile browsing. There are few clues from Opera as to what it could be but Will Park of Into Mobile has had a preview and he says that the headline will soon make sense. The puzzle is gradually being completed (the image is being completed) as time goes on at the Opera teaser site. Right now you can see the right-edge of a device being held in two hands. The 'alt' text for the image is 'Opera Next.'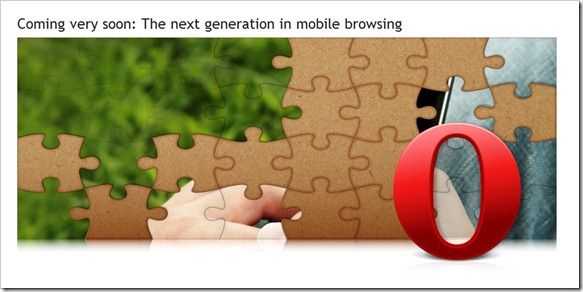 Is it going to be a new Opera Mini or Mobile product and what features would take it to the next level? Opera has already pushed the boundaries with their proxy, widget and sync features so what could be next? Touch friendly UI? Flash 9.5?
Support for more operating systems (Android has been promised) would be good but that's hardly groundbreaking. How about location-enabled browsing? will the next Opera Mobile or Opera Mini app include the Geo API? Will Park says that there are clues in the teaser page and references 'source code.'
Personally I think we're looking at Opera Unite for Mobile based on what I read at GigaOM last week.
If Opera reveal one piece of the puzzle per day, we're looking at a completed picture on Monday 28th September.