Back in May, I took a look at the small notebook PC market to try and determine the distribution of screen sizes. I took screen sizes of 11 inch and under and plotted them on a graph to find the unsurprising result that the 10 inch screen size was the most popular and the original 7 inch netbook had all but died. In May 2009, 68% of the devices had a screen that was over 10 inch. I also promised to revisit the subject. By taking a second snapshot today, I'm able to work out what sizes are growing and waning in popularity. It's only a second data point but it's very interesting.
There has been a huge growth in the 11 inch segment (and 12 inch but that's out of scope for this mobile-computing-focused data set) which means that of all the SKUs, 79.6% are now 10 inch and over.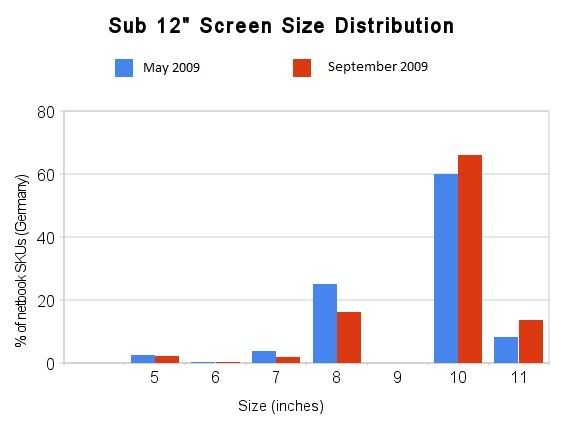 79% of devices have screens of 10 inch and over. (was 68%)
The 11 inch segment grew by 65%
The 5, 6, 7 and 8 inch segments all declined in % (and absolute number of devices available)
The 8 inch segment declined by over 40% from 61 devices down to 45
Linux-based devices still count for 8.5% of the devices (no change)
80% are over 1KG (12% increase)
Nearly all netbooks under 1KG are 1st-gen devices that are outgoing.
The sample size is 279 (up from 243)
The cheapest device in the segment is the Hercules eCafe EC-800 based on the AMD Geode CPU. 160 Euros. Hercules also make the cheapest Atom-based device, the EC-900, for 190 Euros.
In general it's a sad story for mobile computing fans especially as some of the best ultra-mobile solutions aren't even reaching the normal online channels but there's one shining star in amongst that lot. The ASUS EeePC T91 for 450 Euros, in Black, with a 24-month guarantee. 960gm, 5hrs battery life and a whole lot of flexibility!
As before, the results are based on data from the German/Austrian price comparison engine Geizhals.at and include all notebooks (and almost insignificant numbers of tablets and UMPCs) with screen sizes equal-to or below 11 inch. Again, I've put a note in my calendar to review the situation in 3-4 months time.