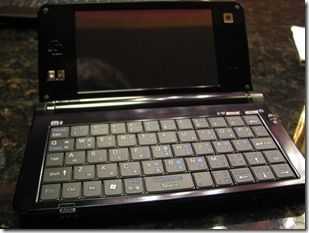 More images in the UMPCPortal gallery.
So far I like what i'm seeing on the UMID. I had a chat with them and the changes are a direct result of feedback that they have received from the community. The screen now opens further, the memory will be upgraded to 1Gb and the USB ports are now using standard connectors. The device will be available with 1.2 and 1.6Ghz Atom CPUs. Launch is Q4.
Note that this is a sample device. The mouse pointer is not finalised. Neither is the finishing.