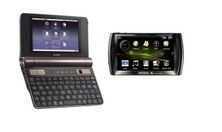 Update: Thanks to the 800+ viewers we had on the live session. It's great to have so much feedback on a live session. Video recordings are always available here.
On Friday evening at 1900 GMT (check your timezone here) JKK and I will be LIVE again.
For the first time ever it's an ARM-only show featuring Cortex CPUs from Freescale and Texas Instruments. The Sharp Netwalker will be there and, if Mr DHL does his job, the Archos Internet Tablet (Android version) too.
We'll be focusing on the Mobile Internet experience as usual but we'll be giving a hardware overview, software overview (as much as we can given that these devices are brand new on the market) and trying to answer your questions.
The Sharp Netwalker is kindly provided to JKKmobile by Conics.net. The Archos Android Internet Tablet is kindly provided by you readers. (Please keep supporting our advertisers!) The session is unsponsored so bring beer and expect a no-holds-barred session.
Start time 1900 GMT. (Time in your location)
Live chat, audio and video
provided in the LIVE! page.
Bring your own food.
*1 About 50% chance right now on the Archos tablet. 1545 Tablet has just been delivered.

Session will be recorded.