Take a look at this picture. In it are the 14 mobile devices I'm taking to Mobile Dev Camp in Munich on Saturday. From a simple feature phone through to one of the bigger netbooks. 2 inch to 10 inch screens. Now try and categorise each device using the terms UMPC, UMD, Smartphone, Mobile Computer, MID, Tablet, Pad, Netbook, Mini Notebook, Microblogging device, Pocket PC or any other term that you care to come up with.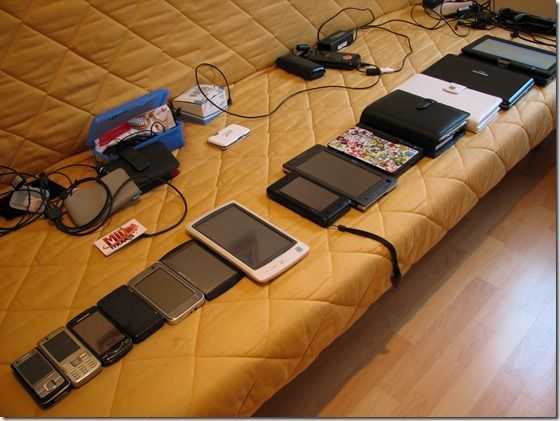 It's impossible right?
The problem is that every time a mobile device is conceived, the marketing people have to carefully analyse where the device might fit in. The same is true of mobile software. What sort of device will the applications 'fit' on?
On Saturday at the Mobile Dev Camp in Munich I'll be talking about the subject with a bunch of devs to  try and stimulate some discussion on the subject. Do we really believe that everything should be converged into a 24/7 pocketable device or are their opportunities to improve the experience for the customer and to break out into small, but significant, niches. Does everything hinge on the mobile OS and it's success in primary markets?
I will be using the diagram I created in 2006 to highlight where I thought (and still think) the physical and design limits were for various mobile computing functions.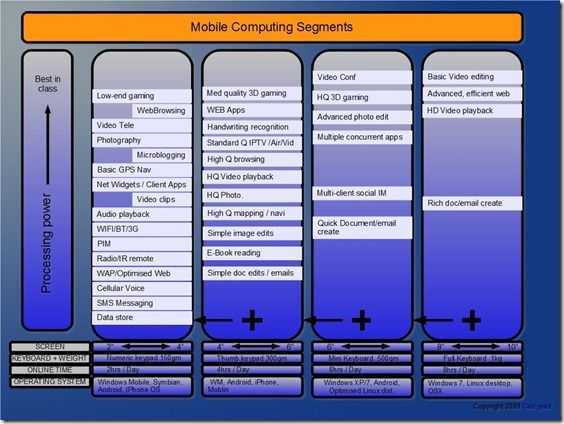 Click to enlarge.
For example, I don't believe that Ebook reading, high quality web browsing, Web applications, 3D gaming or IPTV will work well on the 2 inch-4 inch sized devices and that if you really want high quality video playback, you'll need a screen of 8 inch or above. Well that's my thought anyway. The idea of my talk is to show people the devices and the diagram and to get their feedback so that this diagram can be optimised and re-published. Maybe it helps a mobile software developer somewhere.
If you're free on Saturday and able to get to Munich, register and come along to MDC and join in the fun or If you've got some time on Friday evening, join me in the bar at the Bauer Hotel at 1900 where you'll have a chance to get some hands-on with the devices. If you can't make it, keep an eye on UMPCPortal and MIDMoves where I'll be reporting on as much of MDC as I can.
P.S. Thanks to the Intel Insider program who are supporting me to get down to Munich for the event.