An interesting device popped up at JKKMobile yesterday. A new Kohjinsha device that, according to JKK, could be based on the existing UMID M1. It looks a lot deeper than the UMID, about the same size as a netwalker. Should perform faster than the netwalker too. It's based on the Menlow platform and will be running XP.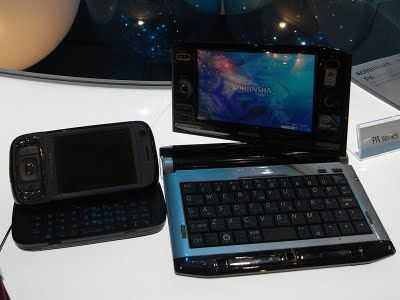 4.8 inch convertible touch screen
Intel Atom Z520 (1.33Ghz) with 512MB RAM
32GB SSD
Wifi and bluetooth
One-Seg TV tuner
1.3 mpix web cam
Micro SD
1 x USB
7 hour battery life ( forget it .. 4 hours is real )
161 × 111 × 10 ~ 26mm 400g
XP Home
We're trying to get detailed info right now so stay tuned.

jkkmobile: Meet new Kohjinsha UMPC, PA series convertible.
Source: PC Watch