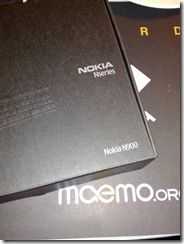 This is amazing. 300 developers have just been given a Nokia N900 (pre-final production version) for a 6 months loan. I've never seen so many happy kids!
I recorded my unboxing for fun and it's embedded below but the most important announcement is that I'll be running another live session on Monday. Hopefully JKK will join and we can talk about the N900 and it's competitors.
Stay tuned for final information about the live session.