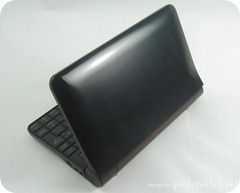 If its not one thing, its the other. The long old story of potential deal-breakers continues.
UMID M1 – Screen angle + USB dongles.
HTC Shift – Battery life + screen res.
Viliv S7 – Colour
and now, wobbly keys on the Sharp Netwalker which, given the importance of keys, is quite the problem. "The keyboard (14mm pitch, 0.8mm stroke) so far is a mixed bag for me… inch says Jenn. "I'm not liking the keyboard at all.. key caps bend to all directions. inch says JKK.
On the positive side, build quality gets a thumbs up along with the optical mouse, battery life and screen angle but performance is again, a bit wobbly. Standby, application start-up times and browsing speeds appear to be varying between acceptable and poor.
For a two-handed thumb-style mobile device, the Netwalker may have missed the mark. The Ubuntu UI is  unrefined, the keyboard caps not ideal for thumbing and the processing power slightly less than is needed for a smooth experience. There isn't even any Bluetooth.
At well over $500, the Netwalker is going to have problems competing with the UMID M2 that is said to be launching at $499. Even with 512MB of RAM and Windows XP it will fly compared to this device. Battery life will be much less (at around 4hrs) and the looks and build quality may be slightly less than you'll find on the Netwalker but for me, the UMID M2 (due to launch in Q4) still has the edge.
Sharp Netwalker information page.
JKK is planning a UMID Mbook vs Netwalker head-to-head. We'll see if we can get a live session up very soon.