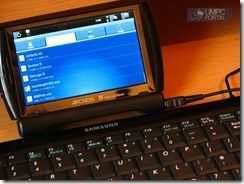 What a hectic few hours!  I've had DHL at the door with the Archos 5 Mini Dock, a tweet from Pocketables alerting me that the new firmware is available and the whole lot has been captured in a video. I'll say no more than this:
Mini-dock = Bargain!
YouTube HD on TV = Fantastic!

IR

RF keyboard and mouse = Total TV laziness.
Mini keyboard and mouse = Mini 'Web' PC under 500gm and 300 Euro!
It looks like some hard drives with no external power won't work but I tested a few USB SD-card adaptors and it worked fine. Questions remain over 3G sticks.
As for the firmware, there are a lot of improvements. Check the updates page for details.
More information about the Archos 5 Internet Tablet here.
Update: TV interference is purely due to trying to record a CRT. For a better look at TV-out put using an HDMI dock, Check out Charbax's video here.
Archos 5 Mini Dock Overview
Help your UMPCPortal! Buy the Archos 5 Mini-Dock through our affiliates.