If you're relatively new to the ultra mobile PC scene, the name 'EKing' probably doesn't mean much to you. They arrived on the scene to rescue the failing Wibrain brand and took on production of the i1; an ugly but very productive UMPC. In the last year they've also been working on new devices and the S515 [specifications] is one of them. We're not sure who's manufacturing this as it's also been spotted as the Digicube Z8. There's also a hint of Viliv in the packaging and marketing but at the end of the day, it's a new ultra mobile PC and it needs checking out.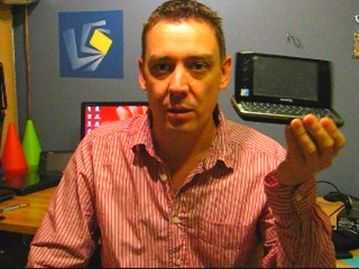 The S515 surprised me when I first unboxed it. The black and rubberised finish, keyboard and build quality are way better than on the silver one I saw at IDF and I was very pleased to to confirm that there is a good quality mouse pad integrated into the frame. Performance with the Windows 7 build was quite impressive too. On the negative side, this is an 800×480 screen (not WSVGA as indicated on the box) which, while near perfect for web browsing and mobile video, becomes a problem when you try to run desktop operating systems on it. A 1024×600 screen would have been better. Lets hope that we can find a nice Linux-based small-screen optimised distribution that works on this Menlow platform because at 50-100 Euros, a Windows XP/7 license is going to be a significant portion of the overall cost of the S515.
[Note: EKing S515 supplied by Mobilx. Check out their web page for latest pricing]
As always, there's a potential show-stopper. In this case, as with many other device we've reviewed, it's the battery life. Is there still no global agreement that anything under 3 hours is a problem? The 2.5 working battery life of this (as I'm seeing right now) is a figure that many will balk at.
The PC-based architecture of the E-King brings the usual advantages of browser quality/choice, USB support, Windows application compatibility and processing power and for some, this is right at the top of their list. For those people, the Eking is worth looking at.
More information, specifications, gallery and links here. Stay tuned for first impressions and a review.