Sascha from Netbooknews has just tweeted that the Kindle application for the PC is now available. 'This is the beginning of the end for the Kindle hardware' he says.
Well I've installed the software, linked it to an account in the UK and sure enough, it works like a charm. I just bought a book online, hit F5 and there it was on the PC.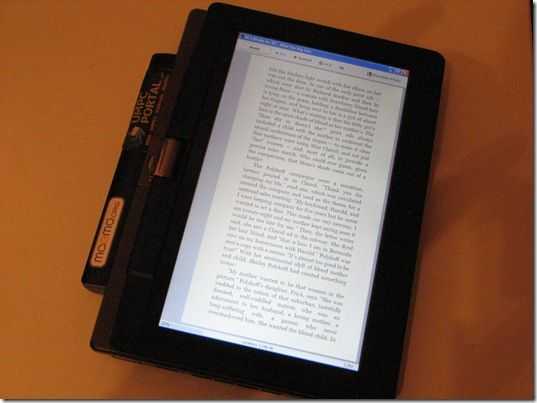 As you can see I've got it running on my Gigabyte T1028M with the convertible touchscreen. I've rotated the screen and set the text to max width. That's what it looks like on a 600×1028 screen. The margins are somewhat wide don't you think? Touching the screen on the left and right margins changes page. You can access the contents, cover and bookmarks but you can't make notes or highlights. That's coming soon…
As with all our services, we plan to continue improving Kindle for PC. Below are some features we are thinking about bringing to Kindle for PC in the near future:

Create notes and highlights
Thanks to Whispersync, you can already read your notes and highlights from other devices on Kindle for PC. We'd like to add the ability to create notes and highlights using the Kindle for PC application.
Search
Find a word or a sentence in the book you are currently reading.
Zoom and rotate images
Click on an image to see an expanded view and rotate it if desired.
Images (the cover at least) are in glorious Technicolor!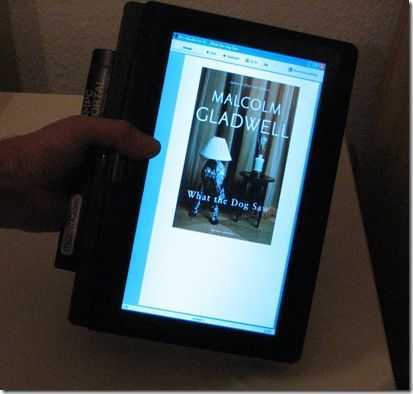 Next up…the Viliv X70. It's a tablet, much lighter and one of the best PC's you can get if you want to take advantage of the Kindle for PC software [Article: What's the best PC for the Kindle PC software?]
I'll run off a quick video of the X70 and post it in a new article. or should I read a book. Hmm…