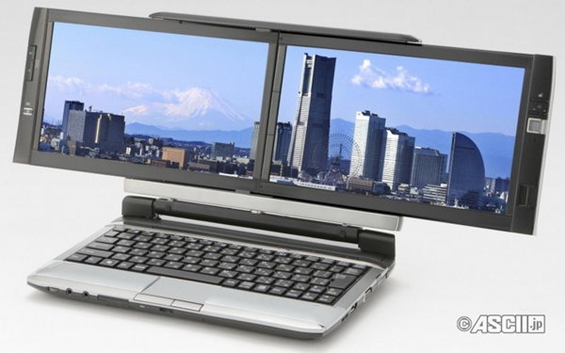 You may have seen the Kohjinsha dual screen netbook concept floating around the web recently, but apparently they are actually going to be putting this thing on the market. The unit will go on sale as the Kohjinsha DZ, and at first I saw this unit as novel, but after seeing it function on video I realize that this could really be useful for some people out there.
Maybe I just missed it before, but this thing is also a convertible, and while it doesn't have a touchscreen, the screen will still spin around like you'd expect. See toward the end of this promotional video from Kohjinsha's site.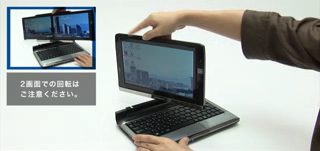 Looks like the DZ will be running Windows 7 Home Premium, an AMD Athlon Neo CPU, 160GB HDD, 1GB of RAM, and have BT/WiFi.
If I was shopping for a new netbook for blogging, I'd seriously consider the Kohjinsha DZ. If you've ever had to write a paper while referencing other sources on a single screen, you know it can be a major pain to flip back and forth between the two. I've got a dual monitor setup at home, but if you need this same functionality on-the-go, the DZ can actually provide that in a netbook sized package. Have a look at the impressively designed DZ screen below. There are no goofy steps to go through, just slide and you are ready to work.
The only issue is that you are getting a unique feature, and you are going to have to pay for it. The Kohjinsha DZ will apparently be sold in Japan starting December 11th for ¥79,800 which is aprox. $925 or €617. Hopefully we'll see some importers pick this one up to make it easy to purchase in the US and abroad.
via Liliputing and Netbooked