No, this isn't Moblin 2.1 for handhelds but it's a step in the right direction along the roadmap shown below. As 2.1 for handhelds feeds in (due for a beta release before the end of the year) the two branches of 2.1 should merge to make way for a unified OS that can support MIDs (on Moorestown) UMPCS (with some tweaking of drivers to support Menlow) and the netbooks and nettops that this new release of Moblin is aimed at.
The new release was announced through a press release and on the Moblin website.
The Moblinâ"¢ project steering committee today announces the project release of Moblin v2.1 for Intel Atom* processor-based netbooks and nettops. This project release includes the broadest feature additions, customer requested improvements, and overall polish to date. With this community release you will see significant feature additions and improvements including enhanced browser functionality and plug-in support, UI enhancements, support for 3G data connections, Bluetooth* device management, input method support for localized languages, integrated application installer for the Moblin Garage, performance and stability improvements, and additional overall help and documentation.
Key features of the new build include a new browser, new Intel Linux graphics drivers (anyone able to see what GPUs are supported? PineTrail clues?) 3G support, new Bluetooth capability, the application installer and more.
I'm currently testing Linpus Lite with Moblin 2.0 but it looks like I might have to abort that now and catch up with what is happening in 2.1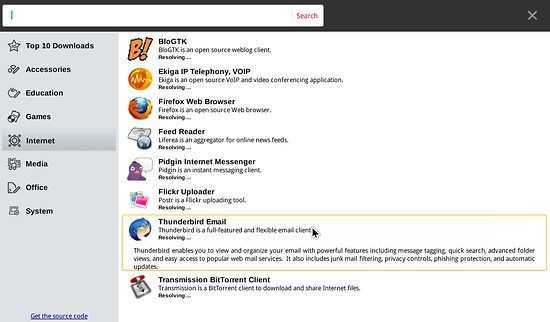 Image via netbooknews.de who have already posted some details in German.
Moblin v2.1 project release for netbooks and nettops – it's here | moblin.org.
P.S. Anyone notice the parallels between Maemo and Moblin. They look like two brands and builds of the same core OS. Any devs out ther care to comment on the similarities in the SDK?