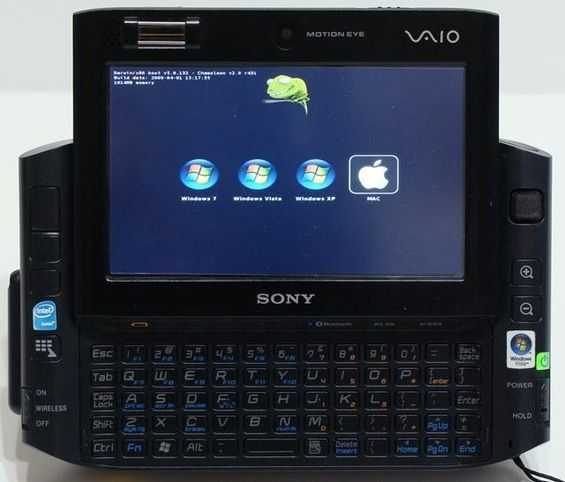 Sony might have stopped updating the VAIO UX series ultra mobile PC a while back, but the amazing guys over at MicroPCTalk certainly haven't. In what is being championed as the masterpiece of the forum, a modded UX490 (the lastest UX model from Sony, released November 2007) features nearly every major mod that the community has come up with over the last several years. [original thread here]
Pretty intense right? But wait, there's more!
The UX490 quad-boots Mac OSX Leopard 10.5.7, Windows 7 Ultimate, Windows Vista Business, and Windows XP Professional (the words "incompatible software" don't exist for this UX490.)
The Huawei terminal even works under OSX making it probably the smallest 3G capable Mac in town!
I'm waiting on some benchmarks and will update this post when I get them, but this UX490 is said to be able to hit 57k in Crystal Mark, which would make it the fastest ultra mobile PC in the world, and almost certainly the fastest for it's size (524 grams/1.1 pounds).
I'm absolutely impressed with what a small but dedicated community can do with a device that they love. Honestly, who thought a computer this small would be this moddable?
Major props to everyone at MPCT who collectively worked out all of the tweaks and mods over the years which have made this possible. Huge shout-out to Ahn who pioneered the first U7600 mod, and did all of the mods on this UX490. Also a giant shout-out to MPCT forum member darkerx who endeavored to create this monster of a mobile machine.
I think we can officially dub this unit the, community created, MPCT UX590.
Maybe the guys at Sony will catch wind of this and become again interested in the UX series!