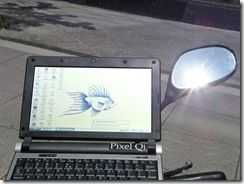 While Intel, AMD, ARM and VIA might want you to believe that low-power silicon is the answer to all battery life problems, the truth is somewhat different. We're at a point now where all silicon, be it X86 or RISC-based, can perform at low enough power consumption that other components on a device become more significant in the power, heat and battery life equation. Talk about 'ídle' power drain is irrelevant when you're using a device in constantly-connected mobile computing scenarios.
Two of the main power problems are the wireless radios (chattery 3G transmissions being a huge problem) and the screen. Despite improvements in backlight technology, a small 3.5 inch LCD screen still takes about 0.5 watt when fully backlit. A 10 inch netbook screen will take up to 3 watts. If you're just reading text, that backlight is taking way over 50% of the total battery drain and as we move to lower-power silicon platforms, the percentage rises higher.  This is a particular problem for mobile users as we tend to moving about in different lighting situations and tend to pump the backlight up higher than desk-bound users.
One of the solutions that many have been watching closely for the last year is the technology developed by Pixel Qi. The trick they use is rather simple. They reflect ambient light back through the LCD matrix to reduce the need for backlight. This works indoors and out. The implementation more complex than that of course but the result is that in bright ambient light situations, you will see a big reduction in backlight power drain. The contrast and pixel density is also said to produce e-ink style results too so it could help to make screens more comfortable to read. Pixel Qi have even kept the process fairly cheap to implement by using existing technologies. Win win win!
Screens up to 10 inchare going into mass production right now and we should see the first devices before the end of the year. Expect products to reach customers in 3-6 months based on the time it usually takes new products to reach the market. As for prices, I'm guessing the marketing teams will use this to throw another $50 on a standard netbook price for a 'sunlight readable' version but overall, you should see about 10-20% improvement in battery life on a standard netbook. As we move forward with lower power platforms and radios, the advantage goes up and I see this sort of technology becoming the norm rather than something that is offered as a premium upgrade.
I'm looking forward to testing out a nice thin 7 inch ultra mobile PC with this tech. Not that I need to read for 7-10 hours between charges but keeping that battery over 50% full always gives one a better feeling when mobile.