Read through this Viliv S7 review at Pocketables and you won't find a single show-stopper. Well not unless you want to watch HD YouTube videos that is!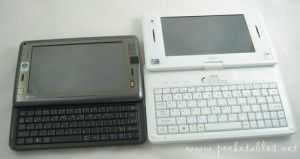 Ben (yes our Ben) has been reviewing the Viliv S7 for Pocketables and has an excellent in-depth review that you should check out if you're looking for a complete single-device mobile computing solution.
I can confirm the fast switch-on and huge standby battery life. I can also confirm the long in-use battery life too. My wife will hardly let the device out of my hands to test it!
I also agree with the keyboard comments:
While full five-finger touch-typing can be done on the S7's keyboard, it feels quite cramped. The most effective way to type on the S7 would be a modified multi-finger typing style.
I still have the S7 on my review list so expect something from me soon but to be honest, it won't be much better or much different to Ben's review. Good job!
Our previous Viliv S7 coverage.